Shut up and take my money: Star Citizen's incredible custom joystick
Saitek shows off its custom HOTAS system for Star Citizen, and it looks freaking incredible.

Published Thu, Oct 15 2015 11:28 PM CDT
|
Updated Tue, Nov 3 2020 12:03 PM CST
If there's one thing that's going to impress Star Citizen fans out there, it's the custom HOTAS systems from Saitek. The UK-based flight stick manufacturer is now showing off the latest designs it has been working on, which you can check out below.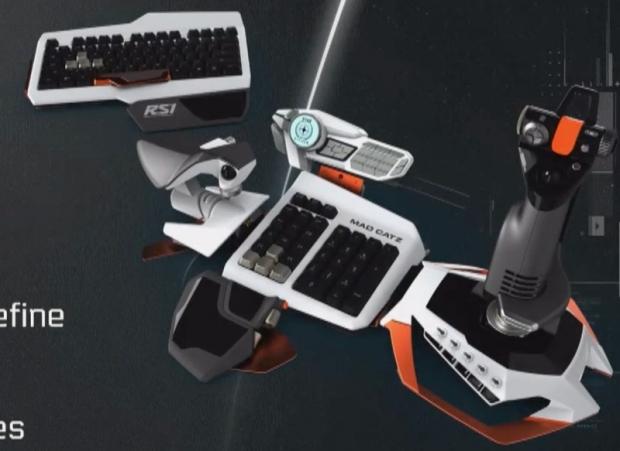 Saitek is working on an entire suite of hands-on, throttle and stick (HOTAS) peripherals that will be customizable. Roberts Space Industries Chief Operating Officer Carl Jones explains: "The idea is that you can split it apart and combine it with other devices". Star Citizen players will be able to fly around with the joystick and keyboard, a joystick and throttle, two joysticks, or an insane combination of custom-made, Star Citizen branded hardware.
The peripherals maker was teasing the custom Star Citizen hardware at CitizenCon over the weekend, which it had behind a glass cabinet so no dirty mits could touch it. Polygon reports that it "looks a lot like the current Thrustmaster T-Series HOTAS, with an attached throttle to the left of the flight stick". The gaming outfit added that the "Saitek model seems to borrow heavily from the existing X52 frame, with the adjustable grip height, locking Z-axis and similar button configuration. But, if you look closely, they've actually added a trackball to the top of the stick - right where your thumb goes - as well as to the throttle".
Better yet, Saitek is working on a purpose-built keyboard that breaks into two, for the first-person part of Star Citizen. There's also a built-in display on the ten-keyless board that provides important on-the-fly flight status information. Jones added that the goal was to create a HOTAS experience that was as great as the game itself.
Star Citizen God, Chris Roberts, added: "One of the reasons we chose Saitek was that they were really keen to make something bespoke for us. And you can see it with the trackball and the joystick, so you can get the best of flight control and gimbal aiming control. Putting it all together just sort of makes sense, because you're going to be flying around. You're also going to be wandering around on foot, engaging in FPS. So having a full suite I think it is cool, and it looks awesome, and I can't wait to have a working version on my desk".
Related Tags