Star Wars: Battlefront won't have built-in voice chat
Battlefront's multiplayer gameplay will be met with silence by default.

Published Wed, Oct 14 2015 6:00 PM CDT
|
Updated Tue, Nov 3 2020 12:03 PM CST
I'm sure that you noticed the stunning ghostly silence in the Star Wars: Battlefront beta; there was no smack-talking, GG'ing, or any kind of team-to-team communication going on. Just dead silence. Sadly that looks to be the state of the game when it ships next month, too.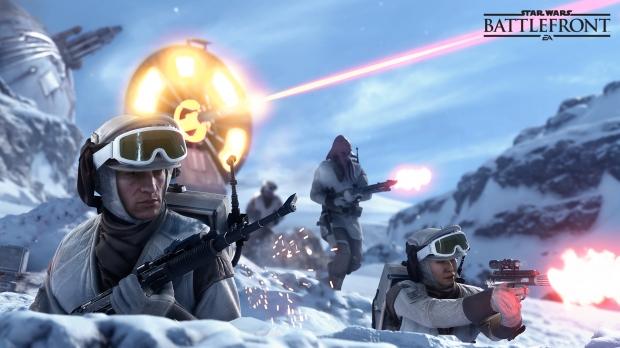 EA has confirmed that Battlefront won't have any sort of built-in voice chatting across PC and consoles. That means no VOIP chatting on PC, or default always-on proximity chatting with enemies or teammates. Console players will need to fire up a party chat to communicate with their teammates, whereas PC gamers will have to use their accustomed third-party chatting apps like Ventrilo, Teamspeak or Skype.
How will this affect the game as a whole? Well to start, playing the game with random players will be chaotic. If you're the type of gamer that likes to jump right into a game without waiting for your friends to log on, then you might want to rethink your strategy. Battlefront is much more enjoyable when you have a cohesive plan of attack that's built upon communication.
Now I'm not saying Battlefront won't be playable with randoms, or that you won't have fun. But any FPS vet knows that being able to communicate with your team is incredibly important. EA has taken away player's voices by default and given randoms yet another hurdle to smash through, and this will be something to consider if you plan to pick the game up. This detriment goes along with the lack of server browsers on PC, a move that EA caught a lot of flak for.
Meanwhile, EA has revealed that the Battlefront beta was enormously popular, with over 9 million players jumping into the Rebel vs. Imperials fray. Also the developers at DICE have recently confirmed that they had to sacrifice resolution quality for performance, and we see this manifest in the Xbox One's 720p and the PlayStation 4's limited 900p resolutions.
Related Tags