Apple's 3D Touch is coming to Android phones
A new display controller from Synaptics will bring full 3D Touch capabilities to future Android phones.

Published Wed, Oct 7 2015 3:30 PM CDT
|
Updated Tue, Nov 3 2020 12:03 PM CST
Apple's new pressure-sensitive 3D Touch display technology is one of the major features of the iPhone 6S and iPhone 6S Plus, offering a unique layered interface that redefines traditional smartphone UIs. But now it looks like the tech isn't just staying in Apple's reach, and will be crossing over to Android.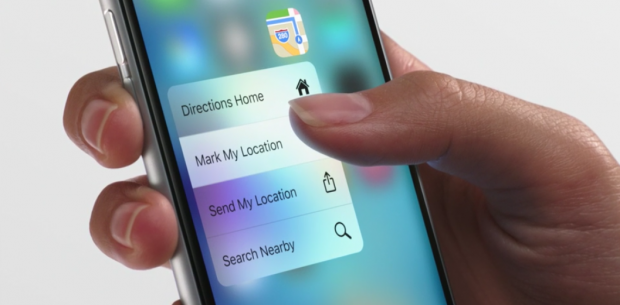 Human-interface developer Synaptics is responsible for the breakthrough and fully expects the new display technology to "become the new norm" in smartphones. Synaptics plans to use its new ClearPad 3700 Display Controller to fully mirror the same variable force performance of Apple's 3D Touch and bring it to the realm of Android phones.
According to Synaptics, this new display interface will offer "new dimensions in user interfaces such as speed scrolling, zoom, gaming, and text or photo editing by applying variable force with a finger or stylus". The controller also has SideTouch, a new function that allows users to use the bezels of a phone to scroll or tap within disrupting what's on the screen.
"This exciting next step in human interface for smartphones will soon become the norm and highlights Synaptics' leadership in force," said Synaptics Vice President Kevin Barber. "Early adopters of ClearForce include industry leading OEMs and LCMs seeking advanced technology that drives an enhanced and more productive user experienced."
Synaptics hopes to start working with OEMs to roll out the 3D Touch-like feature as soon as early 2016, but so far we're not sure which OEMs have adopted the new tech. Below we have a run-down of what the ClearPad 3700 force controller can do and how it will change how you use your phone:
Variable speed scrolling

Picture zoom and panning

Function preview and selection

Continuously variable gaming control functions

Unlock and wake up

Right-side mouse click behavior (open contextual menus)

Line thickness control while drawing (e.g., when writing Chinese characters and creating artwork)

Image editing (brightness, contrast, saturation)

Upper case and symbol selection (to bypass keyboard mode changes)
Related Tags