Star Wars: Battlefront open beta to be held October 8-12
The open Battlefront beta will be held from October 8 - 12 across all platforms.

Published Thu, Sep 24 2015 12:44 PM CDT
|
Updated Tue, Nov 3 2020 12:03 PM CST
EA has just announced that the open beta for Star Wars: Battlefront will be held from October 8-12 across Xbox One, PlayStation 4 and PC (via Origin) with offline split-screen co-op included.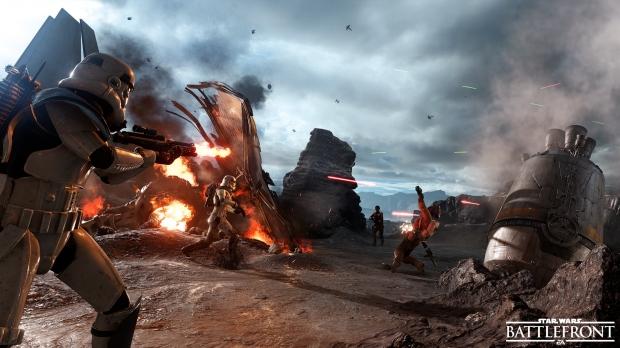 Players will only get four days to try the beta, which will offer three different gametypes across a trio of unique environments set in the cinematic universe, complete with Hero and Villain support with Luke Skywalker and Darth Vader. No details on the beta's matchmaking system have been uncovered so far, and we'll likely have to wait to find out concrete info. The beta will feature three modes including the following:
Walker Assault on Hoth: Fight in epic 40-player battles as a Rebel to destroy the Empire's onslaught of AT-AT's by calling in Y-wing bombers. Or, side with the Empire and protect your walkers while utilizing their mighty weaponry to crush the Rebel objective.
Drop Zone on Sullust: Escape pods are crashing down and you and your team must fight to control them. With its frantic 8v8 matches, Drop Zone is sure to put your combat and strategy skills to the test.
Survival Mission on Tatooine: Play alone or with a friend via co-op or split-screen as you battle to hold off waves of Imperial forces including AT-ST's, TIE fighters, elite stormtroopers and more.
EA will also test out the Battlefront Companion experience during the beta, which adds a card-based mini-game that unlocks credits that can be used to buy content within the retail game. It looks like EA will launch the companion experience in a web browser format over at the official Star Wars Battlefront website instead of an app.
Star Wars: Battlefront is still on schedule to launch on November 17, 2015 across all platforms. EA has confirmed that the game won't have server browsers on PC, but DICE was quick to reveal that the Battlefront reboot will have dedicated servers rather than P2P.
Related Tags