Star Wars: Battlefront beta will be open, offline co-op supported
DICE is opening up the Star Wars: Battlefront beta to all players across Xbox One, PS4 and PC.

Published Thu, Sep 17 2015 7:16 AM CDT
|
Updated Tue, Nov 3 2020 12:03 PM CST
In a new update post DICE has shed light on some new info on next month's Star Wars: Battlefront beta, revealing that it will be available for everyone across all three platforms.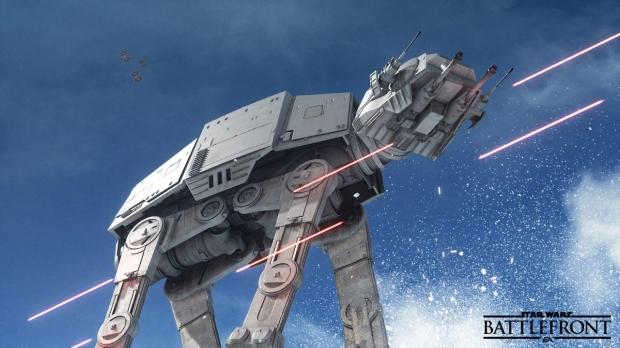 As far as game modes, the Battlefront open beta will ship with both online and offline split-screen co-op play with bots. So far we know that the online offerings will include 40-player Walker Assault mode on Hoth with skirmishes on the ice floor with AT-AT's and Snowspeeders, as well as dogfights in the skies. The newly unveiled Drop Zone gametype on Sullust will be available online as well.
For offline play, the beta features the Missions gametype centered around teaming up with a friend via couch co-op to tackle bots. The update lists a survival-based deathmatch Mission on the craggy dunes of Tattooine as one of the primary modes in the Missions archtype. DICE mentions the Fighter Squadron gametype but doesn't confirm it will be in the beta.
Also it looks like bots won't be solely for offline play after all; "Our Fighter Squadron mode features AI units (10 on each side)," says DICE's Matthew Everett.
The beta still doesn't have a concrete release date, so we're still looking at "early October". Plus we can expect EA's servers to get absolutely hammered as millions of gamers smash the bandwidth. Let's hope EA is prepared to host all the players and games or else everyone will be waiting around for days.
Everett didn't go into specifics on Battlefront's new and improved multiplayer system, either. DICE recently caught a lot of flak from PC gamers when it said that Battlefront wouldn't have broswer servers on PC and will instead feature a "skill based matchmaking system".
Related Tags