Earlier today a rumor that EA was planning to buy out popular Witcher developer CD Projekt RED sprung to life, striking fear and disdain into the hearts of gamers everywhere. Now CDPR has fully squashed the rumor and denied the allegations completely.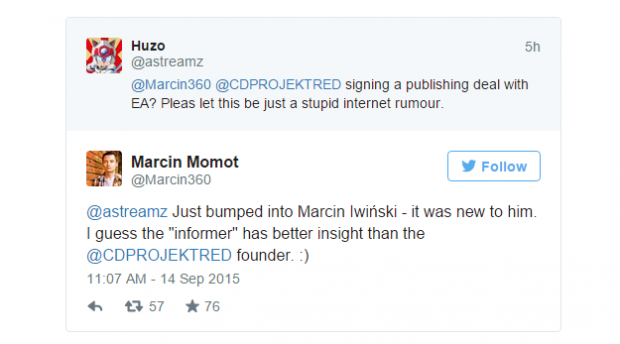 The false rumor was cited by DSO Gaming, who reported that an anonymous CDPR employee revealed that EA was currently meeting up with the studio's top execs to discuss takeover negotiations.
"I'm an employee of CDProjekt Red and I have some bad news to share with you. Our management is probably talking with Electronic Arts about potential take over," the fake employee wrote. "Electronic Arts representatives are currently visiting our studio and meeting with top management. We are not going to release any game soon, so for sure it's not about any publishing deal, so the only possible reason for EA guys being here is that they want to buy us."
Think about this for a minute. CD Projekt RED is already a titan in the games industry, with a number of high-profile AAA juggernauts under its belt. Plus it has GOG.com, a fully-fledged digital distribution service that goes toe-to-toe with Steam and provides a huge arsenal of old-school and new games that dwarfs EA's Origin client.
Why would it need EA's money when it has a ton of its own? Hell The Witcher 3 sold 6 million copies in the first six weeks of its launch--that's an estimated $360 million in less than two months.
Then there's the fact that CDPR is a kind of oasis in the blasted wastelands that is modern day gaming, offering a bounty of sweet, flowing water that doesn't completely annihilate our wallets like the overpriced, tainted radioactive dregs EA offers us. A company like EA would completely choke out creative liberties and turn the Witcher series into a watered-down annual franchise.
The Witcher 3 is a modern marvel that wholly exemplifies the studio's refined posture, offering such incredible depth that we don't normally see in today's games. To be fair the studio does offer a season pass for The Witcher 3, but we have it on good word that these expansions are going to be huge and epic affairs rather than the quick, paltry 2-hour run-throughs that we usually see.
If this rumor happened to be true it would be something like Darth Vader converting Luke Skywalker into the Dark Side of the Force to wreak havoc and mayhem on the galaxy. Under EA's tutelage, CDPR would become a new mighty new weapon in the war on gamers' wallets. Micro-transactions, season passes, always-online DRM...and a strange mashup of Origin and GOG the likes of which we never imagined.