Canon teases VR headset with 2.5K res per eye
Canon finds a way to let everyday people walk right into photographs and video footage.

Published Thu, Sep 10 2015 4:54 PM CDT
|
Updated Tue, Nov 3 2020 12:04 PM CST
Virtual reality is such a big thing that even Canon is getting into the mix. At a VR expo in New York, Canon showcased its new head-mounted VR display that reportedly features an incredible resolution of 2560 x 1440 per eye for a total 5600 x 2800 pixels.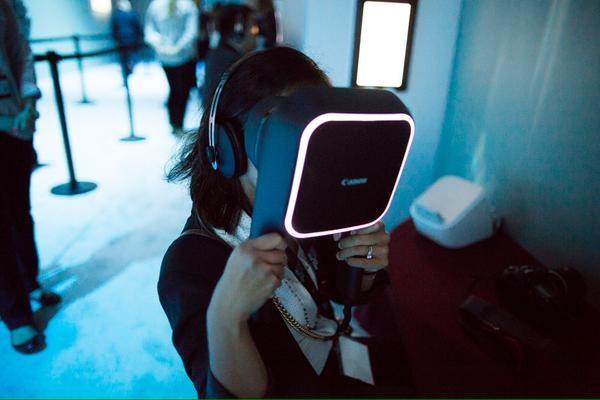 According to attendees, Canon's new VR display has a 120-degree FOV (field of vision) with "very clear visuals" and a three-layer optical lens system per eye. The display is quite unconventional, sporting two legs that serve as handholds rather than a strap to fit upon your head. It looks a lot like a high-tech VR version of the older viewfinders you see near monuments in metropolitan cities. The device streamed a 5-minute loop of high-res footage shot by Canon cameras in 5600 x 2800 resolution, which basically transported viewers into a living virtual world.
Right now details are slim on Canon's VR prototype and we're not sure if it supports 360-degree head-tracking or what kind of specs are running under the hood, but it's still amazing to see the camera giant step into the ring. VR and photography naturally compliment one another and it'll be amazing to see what kinds of things the company cooks up in the next few years with this new magical tech.
Related Tags