Nintendo NX will let you share replays and track high scores
The NX will have live leaderboards and users will be able to share video replays across the network.

Published Wed, Aug 26 2015 2:54 PM CDT
|
Updated Tue, Nov 3 2020 12:04 PM CST
A new patent reveals that Nintendo's upcoming NX system has a unique and rather dynamic sharing functionality that will let users compare and share high scores, achievements and video replays.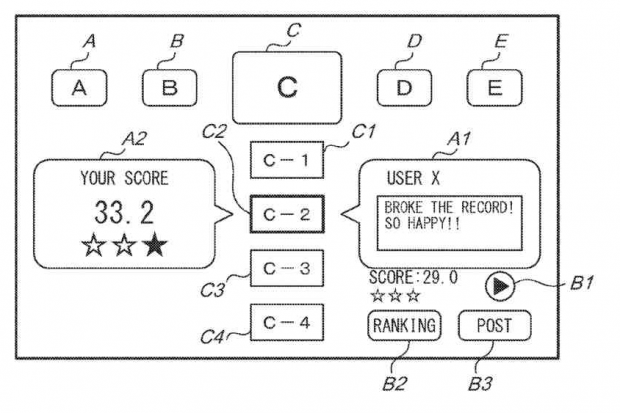 The Nintendo NX patent, originally spotted by Nintendo Enthusiast, is pretty beefy, but the general jist of it centers around users comparing their in-game feats. Essentially players will be able to compare each other's scores on a wide network of users, send and receive replay video clips, and check their standings on live leaderboards.
All shared data will consist of a "sheet" of content including high scores (which can be cross-checked with live leaderboards), a grading system (stars, etc), customized user-created messages and drawings (think Miiverse sketches) and the ability to view replay video. All users will be able to share and publish these "sheets" of content. The above picture is a mock-up scheme that servers as an example of a shared post.
According to the patent, the NX will automatically start recording clips when certain conditions are set: "A user creates shared information when the user has cleared a stage or set a new record," which is quite similar to the Xbox One's achievement recording mechanic. Replay data will be viewed on the console's Wii U-like display controller.
Miiverse on NX and network-wide competitions
Digging a bit deeper into the patent reveals even more evidence that the replay function will be a part of MiiVerse, as the patent states that users will be able to include "text input by a user who posted the shared information," and that "shared information may include handwritten characters or illustrations input on the touch-screen display," which is very much like the Wii U's Miiverse that allows players to share sketches and screenshots with one another.
The patent also notes that specific games will use this achievement tracking system to unlock in-game bonuses, pointing to the possibility of network-wide competitions. "The game program may be programmed to perform a predetermined operation when the valuation fulfills a predetermined condition; for example, the game may be programmed to enable the user to play a new mini-game by obtaining a certain number of stars."
Games can also unlock extra content sent through the sharing mechanism: "The game program may also be programmed to enable the user to use certain data available when creating shared information."
Coupled with the recent news that the Nintendo NX will have game cartridges instead of discs, these patent filings are starting to reveal more and more possibilities of what Nintendo's new system will actually be like. So far it appears it'll be an upgraded centralized console with a Wii U-like touchscreen controller, be compatible with other devices like smartphones and PC's, and that it'll sport an APU crafted by AMD.
Related Tags