Samsung will begin making HBM early next year
Samsung says it will enter the HBM market early next year.

Published Thu, Aug 20 2015 9:58 PM CDT
|
Updated Tue, Nov 3 2020 12:04 PM CST
It looks like the High Bandwidth Memory game is about to receive a very big new player in the form of Samsung, with the South Korean electronics giant announcing at IDF 2015 that it will begin mass production of HBM early next year.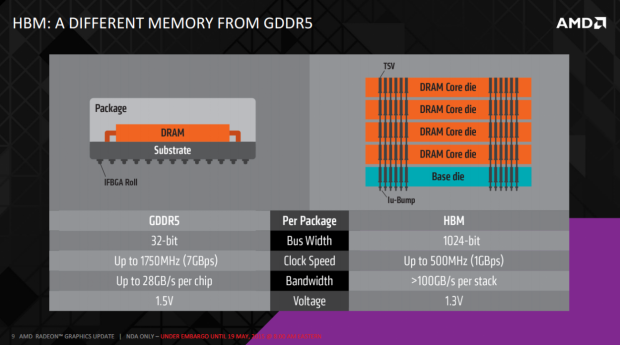 Right now HBM1 is limited to just 4GB and 512GB/sec, but HBM2 will be capable of driving far past 8GB and sitting at around 1TB/sec memory bandwidth. We should expect new video cards to feature up to 48GB of HBM2, with consumer cards most likely sitting at around 8-12GB of HBM2. With NVIDIA dominating the GPU market share with no signs of slowing down, next year is going to be one of the biggest for GPUs.
HBM2 is going to usher in more changes in the next 12-18 months than I think most people can even predict, especially when we begin seeing professional video cards (think video professionals, servers and the like) with GPUs packing 48GB of HBM2 with up to 1.5TB/sec of memory bandwidth. Even the fastest GeForce cards right now only feature 334GB/sec of memory bandwidth, while the HBM1-powered Fury X from AMD packing 512GB/sec bandwidth.
Related Tags