Intel says that DDR4 will overtake DDR3 sometime next year
Intel predicts a major rise in DDR4 RAM adoption throughout 2016, with servers accounting for a major influx following notebooks and desktops.

Published Fri, Aug 21 2015 2:13 AM CDT
|
Updated Tue, Nov 3 2020 12:04 PM CST
IDF 2015 - Intel has laid out predictions for a marked rise in DDR4 RAM adoption following the widespread availability of Skylake-powered servers, notebooks and desktops.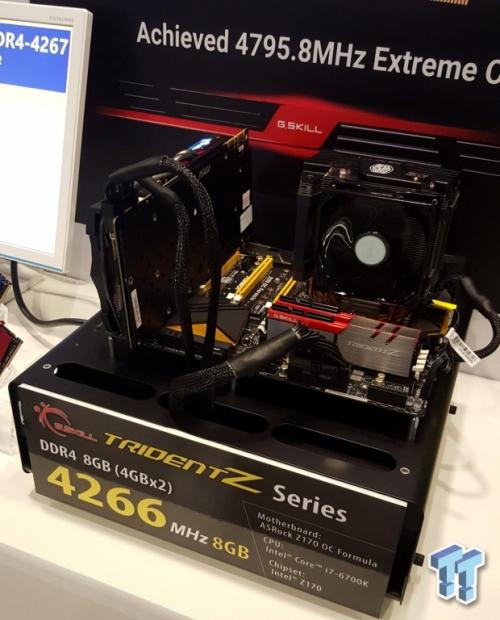 Right now mainstream support for DDR4 RAM is rare, and it's mostly found in Intel's Xeon-powered servers and in enthusiast grade PC's powered by X99 chipsets. But according to analyst firm IHS, whose findings Intel touted on stage, DDR4 will already start to overlap production of DDR3 as early as next year.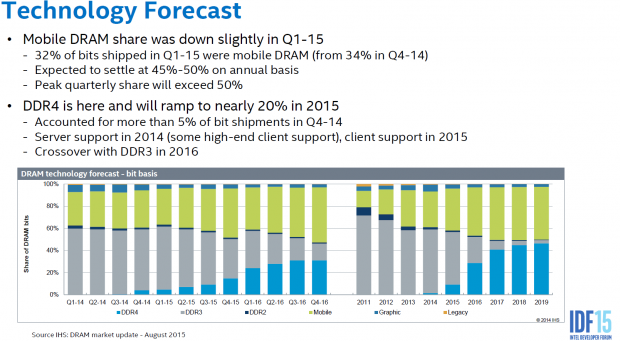 IHS further lays out a timetable for desktops and servers that shows the projected transition period from DDR3 to DDR4. Servers have been using DDR4 since late 2014 thanks to the Xeon E5 v3 processor, and the platform will continue to account for a bulk of memory usage throughout this year and well into 2016. By the end of this year alone IHS predicts that DDR4 will account for 60% of all server memory shipments, and jump to 90% in the same time next year.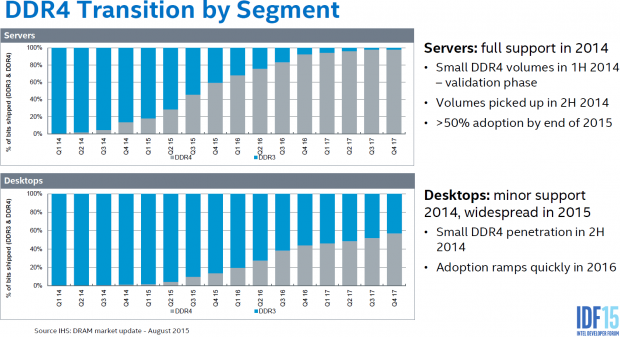 Desktops on the other hand, will trickle towards DDR4 at a slower rate. Notebooks however will take to the new memory more quickly. This is expected to create more demand for the new memory and kickstart manufacturing leading to a rise in adoption. By late 2016, as costs even out, 8GB DDR4 bits will account for 49% of total bits shipped in 2016.
DDR4 RAM brings a host of benefits across the board including massive speed boosts at lower voltages. G.Skill showed off its ultra-fast TridenZ DDR4 RAM that clocked in at 4266MHz at IDF 2015, and Corsair's overclocked DDR4 hit 2133MHz on a Skylake platform.
Related Tags