Here's how to unlock 'Very High' quality Xbox One to PC game streaming
Tech-savvy gamers have found a way to raise Windows 10's Xbox One to PC game streaming for enhanced graphics.

Published Fri, Aug 14 2015 12:25 PM CDT
|
Updated Tue, Nov 3 2020 12:04 PM CST
Windows 10's cross-platform game streaming functionality is largely seen as an impressive feature of the new OS, but there's a problem: Microsoft has capped the graphics at High Quality. But now gamers have found a way to raise the Xbox One to PC game streaming quality to Very High to fully harness the potential of enthusiast-grade rigs.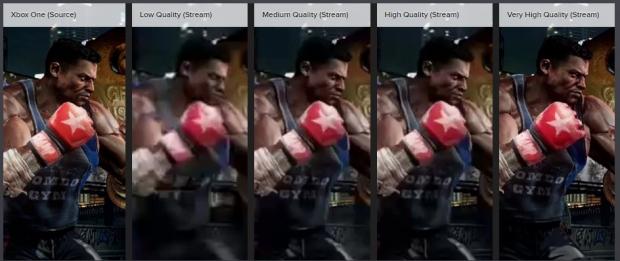 The Very High graphics setting for Xbox One to PC game streaming is still being tested by Microsoft, "High" is the current default ceiling for Xbox One to PC game streaming. Essentially Microsoft has just toggled the setting down a notch, and enabling the maximum settings is a pretty simple six-step process. After unlocking the new mode users have reported instances of lag due to the boost in required LAN network bandwidth that hit streams of 18-20mbps, so you'll want to check your router and cables.
We have the full step-by-step rundown below courtesy of NeoGAF.
Step 1: Open File Explorer, and copy/paste this location:
C:Users%USERNAME%AppDataLocalPackages
Step 2: Scroll down and open the folder that starts with "Microsoft.XboxApp..."
Step 3: Open the folder LocalState
Step 4: Right click the file called "userconsoledata" and choose Open With.. (select Notepad)
Step 5: Change this:
< IsInternalPreview >false< /IsInternalPreview >
into this: < IsInternalPreview >true< /IsInternalPreview >
Step 6: Now open the Xbox App, begin streaming- and in the top right of the stream window, click the ((o)) button to select Very High. Here's a pic for reference.
As expected there's a notable difference between High and Very High settings, which you can see in the above comparison with Xbox One's World of Tanks running in High (left) and Very High (right). Interestingly enough the changes in fidelity are evidence in Minecraft's brightly-lit voxel world, with the High version (left) missing some of the draw distance detail of the Very High flavor (right).
As noted above you'll want to make sure your networking gear can support the required bit-rates or you'll experience incremental lag. High quality Xbox One to PC game streaming clocks in at about 8-10 mbps, which is fine for most gamers, and that's probably the main reason Microsoft made it the default cap.
Related Tags