Star Wars: Battlefront's new Blast mode is 10v10 chaos
Get your blasters ready for some classic Empire and Rebel Alliance fragfest action.

Published Sat, Aug 1 2015 9:33 PM CDT
|
Updated Tue, Nov 3 2020 12:05 PM CST
Earlier this week DICE teased a reveal for a new Star Wars: Battlefront multiplayer mode, and shortly after the devs unveiled the explosive Blast mode.
At its core Blast mode is pretty simple: it pits the Rebel Alliance against the Galactic Empire for some enthralling laser-zapping 10 vs. 10 team deathmatch action, the kind that taps the game's fluid and frenetic pace. The objective of the game is pretty straightforward: the first of the warring factions to hit 100 kills or scores the most kills after a 10 minute round wins the game.
Vehicles won't show up in Blast, nor will there be any heroes of villains. In lieu of vehicles, DICE has peppered the maps with power weapons that can significantly turn the tide of the battle at any moment. "Whether you pick up a Droid scanning for nearby enemies or a turret that'll control a zone for you, the pickups can really turn the tide of a Blast match," says Battlefront Level Designer Dennis Brännvall "They are not around every corner though, so keep your eyes peeled."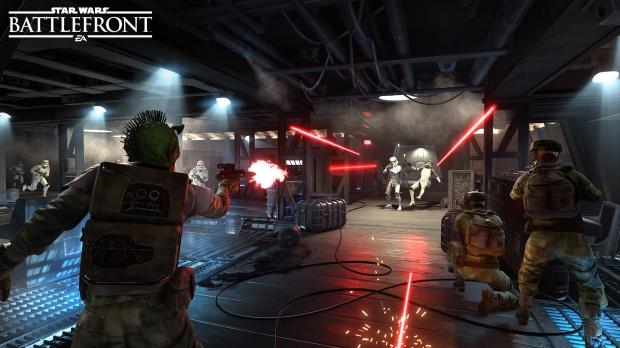 While the mode's objective remains the same, the playing field terrain will shift quite frequently to offer up fresh new experiences. Like all of Battlefront's maps, Blast's maps tailor-made to fit its close-quarters scope.
"One battle you'll be fighting within interior levels on Endor or Sullust," Brännvall said in regard to Blast's specific map selection. "In the next battle, you might find yourselves among Tatooine's dusty canyons, or inside the undeniably cool Ice Caves on Hoth. My favorite is the verticality of Tatooine, fighting by the Sandcrawler."
Blast mode is essentially DICE's effort to recreate those classic shootouts featured in the films while mixing in the kind of exciting anything-can-happen chaos that only a sandbox-style FPS can bring. Eight unique Battlefront gametypes have been revealed so far, including Blast, Walker Assault (which features 40-player insanity), Survival, Supremacy, Fighter Squadron, Drop Zone, Cargo and the offline and local co-op compatible Missions mode.
Star Wars: Battlefront takes launch on November 17 for PlayStation 4, Xbox One and PC, and so far DICE has noted pre-orders have been extremely strong.
Related Tags