Windows 10 will include a built-in screen recording feature
Windows 10 has a hidden screen recording function.

Published Tue, Jul 21 2015 8:00 PM CDT
|
Updated Tue, Nov 3 2020 12:05 PM CST
In a move that will have most people asking "why haven't we had it sooner", Windows 10 might have a built-in screen recording feature. The latest pre-release build has some new tips throughout the OS, teasing that when you press the Windows Key + G together, it will open up a brand spankin' new recording option.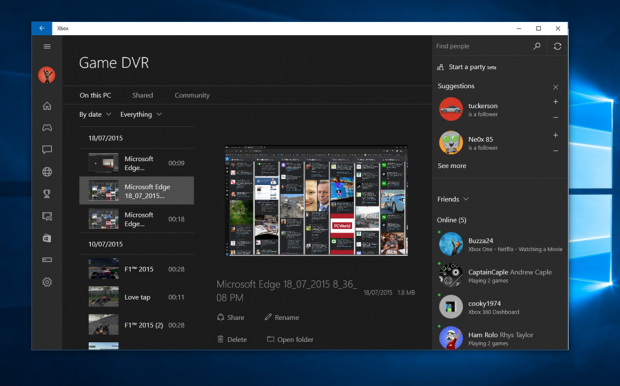 TechAU reports that when pressing WinKey + G, it "brings up a toolbar that allows you to take an image (you already had the snipping tool for the that), as well as the ability to record video. The intention, or promoted functionality for this is to capture Windows games in much the same way you can command Cortana by saying 'Xbox record that'".
The recorded videos find themselves in Videos/Capture, but the screen recording feature seems to be locked to the Xbox app, which is weird. An OS-wide recording application would be awesome, I don't see why it has to be associated with Xbox, or gaming in general. Especially considering the wide use of screen recorders for YouTubers. But, this is exciting news for Windows 10, a built-in screen recorder would be a great new feature for Microsoft's soon-to-be here operating system.
Related Tags