EVGA's super insane GeForce GTX 980 Ti KINGPIN will cost up to $1050
EVGA's fully custom GeForce GTX 980 Ti KINGPIN video card will be released tomorrow, for $850.

Published Mon, Jul 20 2015 10:04 PM CDT
|
Updated Tue, Nov 3 2020 12:05 PM CST
One of the most exciting GM200-based video cards is nearly here, with EVGA all systems go to release their GeForce GTX 980 Ti KINGPIN video card tomorrow, priced at $850.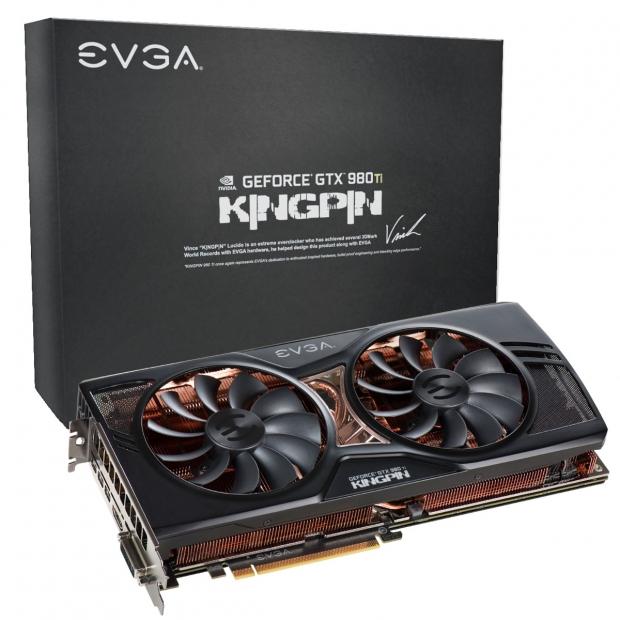 EVGA is offering its new card with pre-binned GPUs, which allow consumers to choose their GPU ASIC quality before the purchase is made. Inside, we have the same GM200 GPU that powers the reference GeForce GTX 980 Ti, with the 2816 CUDA cores, 176 TMUs and 96 ROPS. But the Base Clock has been increased from 1000MHz on the reference design, to 1203MHz. This results in the Boost Clock being increased from 1075MHz to 1304MHz. With these clocks, it's certainly not the fastest GTX 980 Ti out there, an award that goes to the ZOTAC GeForce GTX 980 Ti AMP! Extreme Edition.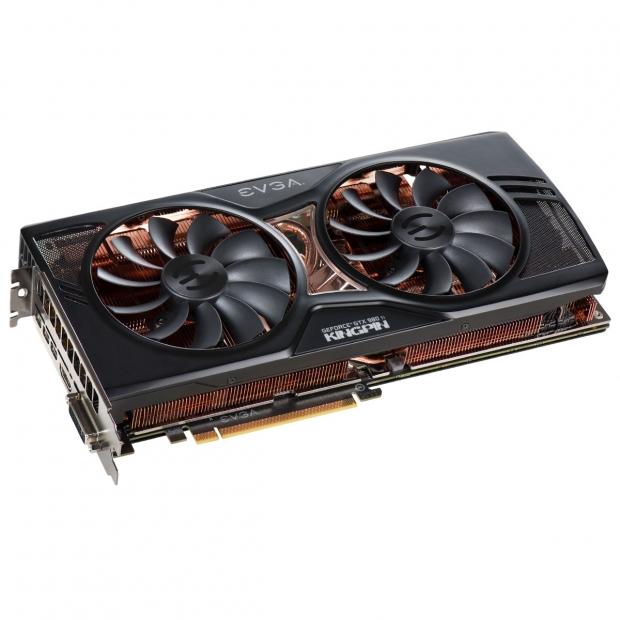 Powering the EVGA GeForce GTX 980 Ti KINGPIN card are two 8-pin PCIe power connectors joined by a 6-pin PCIe power connector. This will provide the board with up to 450W of power, which is simply insane. EVGA has deployed an extended PCB on the card with a beautiful custom design sporting extra copper filling for smoother power delivery. 12 layers have been stacked together to form the PCB, with 14+3 phase fully digital VRM will provide the card with all of the power it needs to keep it stable during those overclocking sessions.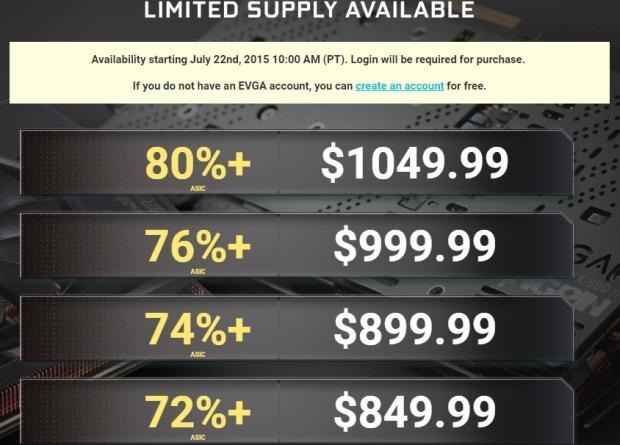 Where the GPU ASIC quality comes into play, is that consumers can opt for four different models. The first, is the $850 model with 72%+ ASIC quality, $900 for 74%+ ASIC quality, $1000 for 76%+ ASIC quality, or a huge $1050 for 80%+ ASIC quality. These cards aren't for the faint-hearted, but for the true enthusiasts.
Under LN2, KINGPIN himself has clocked the EVGA GeForce GTX 980 Ti KINGPIN card to a huge 2100MHz on the Core, while the RAM has been increased to 2053MHz (up from 1750MHz), providing 400GB/sec memory bandwidth.
Related Tags