AMD's Frame Rate Target Control tested with considerable power savings
PCWorld tests out AMD's new Frame Rate Target Control with some impressive results.

Published Sat, Jul 4 2015 6:09 PM CDT
|
Updated Tue, Nov 3 2020 12:05 PM CST
One of the key features of the new Radeon 300 and R9 Fury series of cards was something that AMD introduced as 'Frame Rate Target Control', which effectively limits how many frames per second that your card renders, which in turn has some serious power savings and limits the total heat output of your card - great, huh?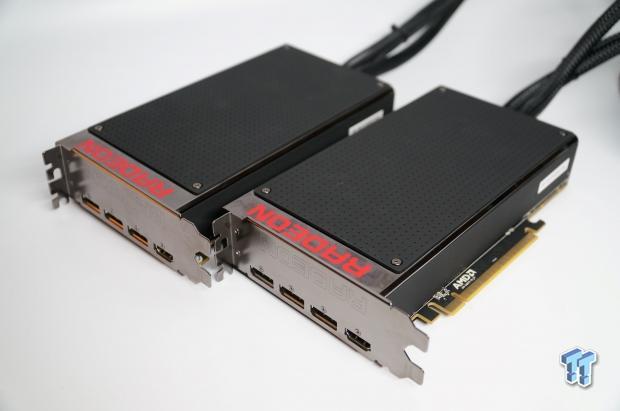 Jason Evangelho, a contributor for PCWorld has played around with it with some great results. He reports that there's a limited of between 55FPS and 95FPS for most DX10- and DX11-based games. The benefits of FRTC is reduced power consumption, heat output, and fan noise. In games where your new Radeon R9 390X or Radeon R9 Fury X might not be doing much work - in something like League of Legends - the power savings could be immense.
Instead of pushing 200FPS+, you can limit your AMD GPU to your monitor's refresh of 60Hz (for example) and have your card doing one-third the work. But what are the benefits like? Let's start with GPU temperatures: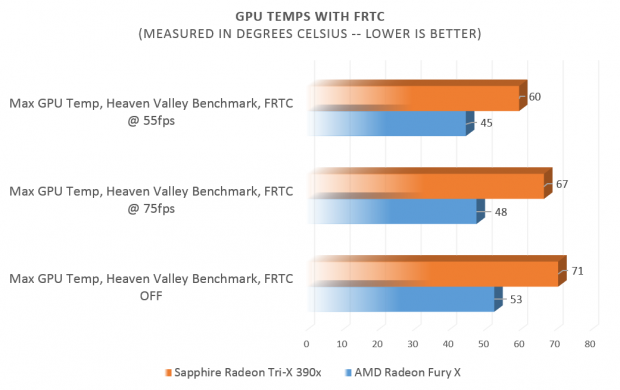 As you can see here, PCWorld has tested Heaven Valley with FRTC limited to 55FPS, with the R9 390X hitting 60C. But when it is unleashed without a frame rate cap, it reaches 71C. That is quite the difference, 18% actually.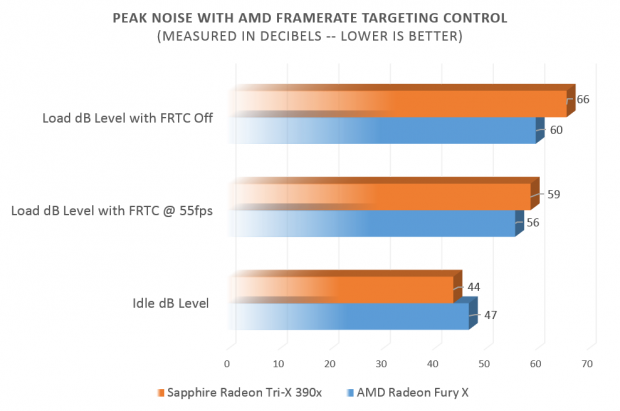 When it comes to noise output, when the card is limited to 55FPS, the R9 390X makes 59dB of noise, compared to 66dB when it's not limited.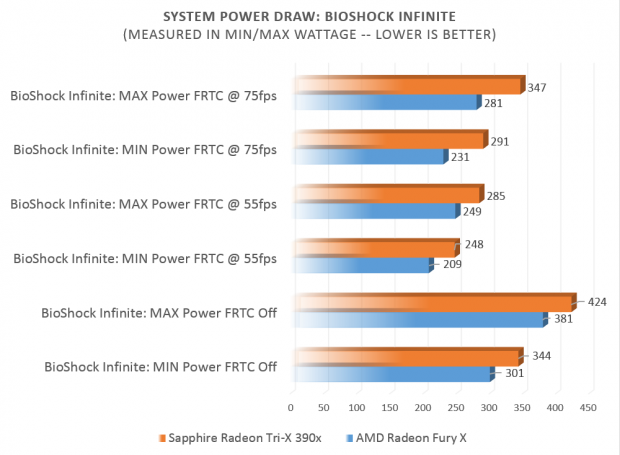 The biggest benefit of all comes from the total system power draw, where if the card is limited to 55FPS, the Radeon R9 390X from SAPPHIRE consumes just 285W maximum. Unleashed, it consumes up to 424W which is a huge difference of 48%. Now that, is something worth writing home about.
Related Tags