Russia teases new trans-Siberian highway from New York to London
Russia proposes new 12,910 mile long trans-Siberian highway that would stretch from New York to London.

Published Thu, Mar 26 2015 1:46 AM CDT
|
Updated Tue, Nov 3 2020 12:09 PM CST
The Siberia Times is reporting that Russian Railways' President, Vladimir Yakunin, has proposed a plan to build a gigantic trans-Siberian highway that would stretch from London, to New York.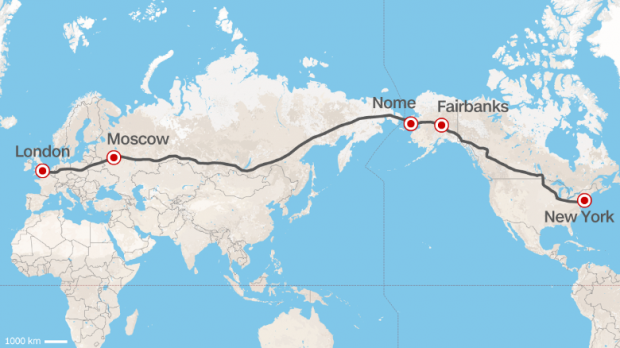 The project has been called the Trans-Eurasian Belt Development, or TEPR, which would see a major highway constructed alongside the existing Trans-Siberian Railway, right next to a new train network, and oil and gas pipelines. Siberian Times quoted Yakunin as saying: "This is an inter-state, inter-civilization, project. The project should be turned into a world 'future zone,' and it must be based on leading, not catching, technologies".
Yakunin has said that the proposed TEPR would run across the entirety of Russia, linking up to the existing road systems found in Western Europe and Asia. Yakunin also added that it would connect Russia directly with North America through its own far eastern Chukotka region, and then across the Bering Strait, through to Alaska's Seward Peninsula.
The TEPR would need to run across the sea obviously, but there's no information on what route it would take across the pond. The shortest distance between mainland Russia and mainland Alaska is around 55 miles. The entire drive, if you went from London to Alaska and passed through Moscow, would be around 8,064 miles (or 12,978km). If one were to drive from London to New York, things get much longer with the trip being a gigantic 12,910 miles, or 20,777km.
As for the cost of this trans-Siberian highway, the TEPR has said that it would cost "trillions of dollars".
Related Tags