Leaked: AMD Radeon R9 390X performance, 60% faster than Radeon R9 290X
Leaked performance numbers on the Radeon R9 390X see it up to 60% faster than the R9 290X.

Published Mon, Mar 16 2015 2:10 PM CDT
|
Updated Tue, Nov 3 2020 12:09 PM CST
Hours before NVIDIA takes the veil off of its GM200-based GeForce GTX Titan X at GTC 2015, there are leaked details on specifications and performance for AMD's upcoming Fiji-based Radeon R9 390X.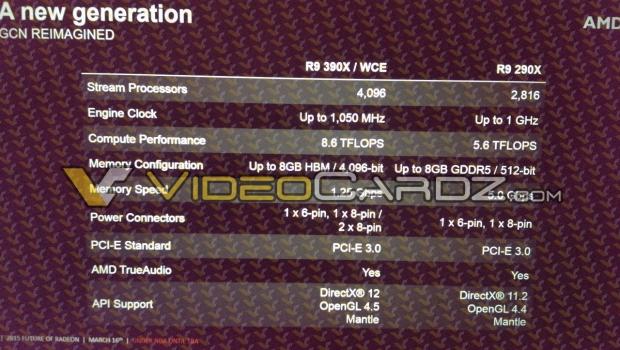 According to the latest leaks, the new Radeon R9 390X with HBM memory will be up to 60% faster than the Radeon R9 290X with its 4GB of GDDR5 RAM. The leaked specs see the Fiji XT model featuring 4096 stream processors, a 4096-bit memory bus with up to 8GB of HBM memory, something that will provide 600GB/sec+ of memory bandwidth.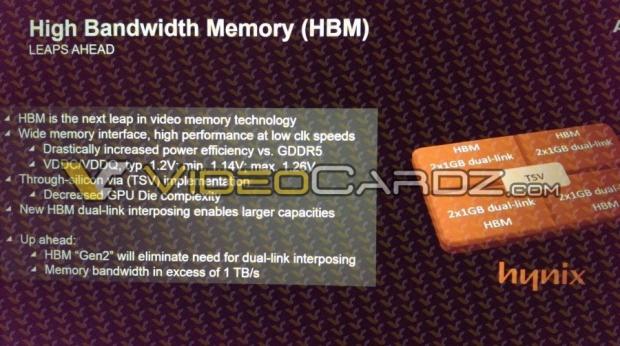 Comparing this to the R9 290X, we have 8.6 TFlops of performance on the R9 390X, which is a huge leap on the 5.6 TFlops that the R9 290X is capable of. HBM is said to be "leaps ahead" when it comes to video memory technology, where we have "drastically increased power efficiency" compared to GDDR5, and so much more. The R9 390X has full support for DirectX 12 and Mantle, with "new dual-GPU modes with upcoming drivers" being teased, as well as an "immersive VR experience with AMD LiquidVR".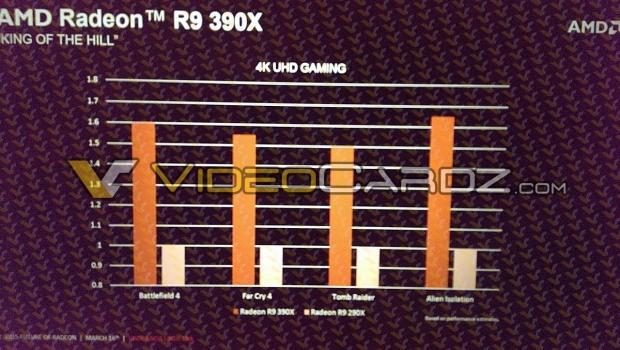 Then we have the interesting model: the Radeon R9 390X WCE, which will come with watercooling by default, something that reviewers like us will receive. We don't know if this model will make it to the public, but the R9 390X WCE is "designed for 4K & VR gaming" according to the leaked slides.
As for performance, the leaked slides use four benchmarks: Battlefield 4, Far Cry 4, Tomb Raider and Alien: Isolation, where the R9 390X is around 1.5-1.6x faster than the R9 290X. We should hopefully see AMD release the R9 390X sometime before Computex in June.
Related Tags