$12 can get you a lot of Star Wars right now at the Humble Bundle
The current Humble Bundle offering gives you access to a whole lot of Star Wars for only $12.
Published Sun, Feb 15 2015 1:26 AM CST
|
Updated Tue, Nov 3 2020 12:10 PM CST
$12 is all it takes to get your own copies of 12 classic Star Wars games through the Humble Bundle - including smash hits like Star Wars: The Force Unleashed II, Star Wars Republic Commando and Star Wars Battlefront II.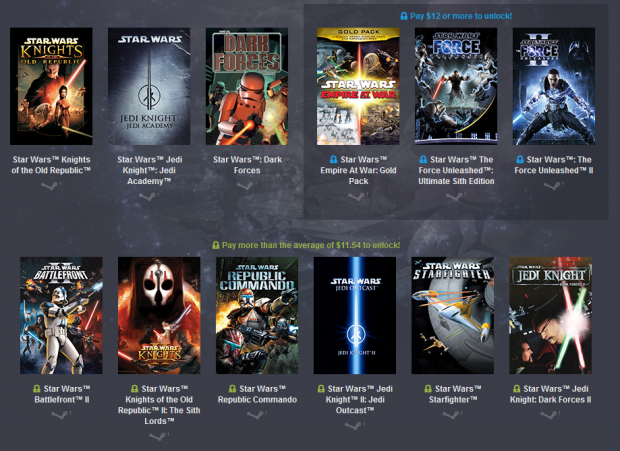 Donating to charity has never been cooler, thanks to the release and upkeep of the Humble Bundle. This project allows you to give a small donation to charities, the developers and Humble Bundle themselves - spreading the love around to all. We've seen plenty of bundles come and go, ranging from large-scale developer offerings to small indie brands with basically every bundle guaranteed to offer you 20+ hours of game play enjoyment.
As with all bundles, you can spend what you wish - however the more your donation is, the more games are unlocked for you to play. The smallest of donations will see you get the three basic titles of Star Wars Knights of the Old Republic, Star Wars Jedi Knight: Jedi Academy and Star Wars: Dark Forces. Expanding this to above the average donation amount of $11.54 will see you open the doors to a further six games - with finally a $12 or higher donation seeing you unlock the full 12 titles.
According to Hot Hardware, purchasing all these games separately will set you back around $137 - so why not spend the price of three drinks and help out charity, the developers and this awesome company called Humble Bundle.
Related Tags