Recent fake Facebook porn links infecting systems with a Trojan virus
Fake porn links on Facebook have seen over 110,000 users infected with a Trojan in only two days.
Published Fri, Jan 30 2015 6:54 PM CST
|
Updated Tue, Nov 3 2020 12:10 PM CST
Don't ever click porn links on Facebook - it's a very good rule to follow in general, however if you're looking to get a porn fix through this popular social media, you need to be extremely alert and aware. Reportedly infecting over 110,000 Facebook users within two days, not everyone is as smart as you might have hoped.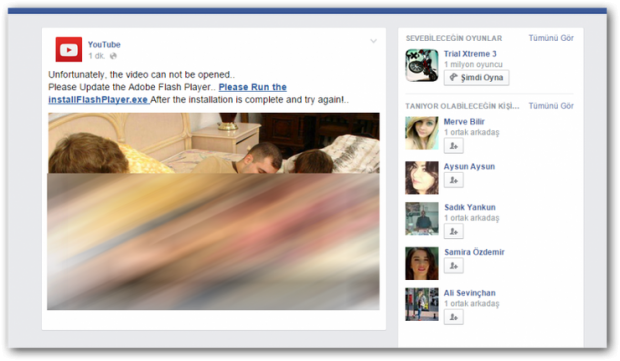 Disguised as a Flash update, this disguised-malware post will tell you to quickly download and run an update in order to see a withheld porn video - doing so will download a Trojan directly onto your system, allowing a hacker to take control of your keyboard and mouse. This virus will then start linking multiple similar links on your wall and tagging up to 20 friends with each post.
Facebook have released an official statement on the matter, saying "we use a number of automated systems to identify potentially harmful links and stop them from spreading. In this case, we're aware of these malware varieties, which are typically hosted as browser extensions and distributed using links on social media sites." In order to cull the wave of infections, Facebook is "blocking links to these scams, offering cleanup options, and pursuing additional measures to ensure that people continue to have a safe experience on Facebook."
Do yourself a favor and never source your porn on Facebook, there's nothing worse than your mother or boss seeing that you've recently 'liked' a page called "sexy hot hunnies 4 u" or similar.
Related Tags