We've been covering various large and small PC builds over the last few weeks, trawling the internet looking at rigid-tubing, SLI setups, crazy colors and massive overclocks, so here's something a little different - the Sour Apple.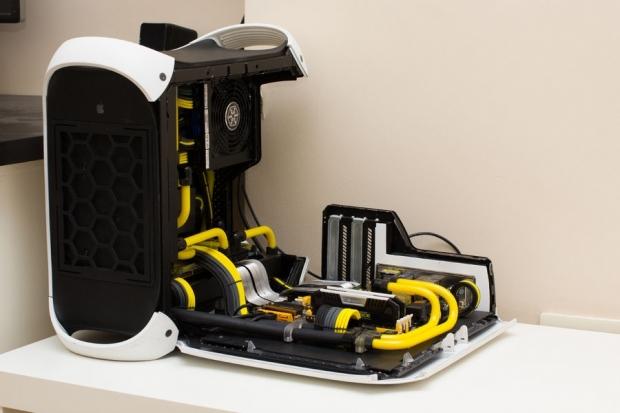 Modder Gardnerphotos has taken a boring old PowerMac G4, slapped a #PCMasterRace array of components within and made it his own.
Modified to fit an ASRock Z87m OC Formula motherboard, an Intel i7 4770k and an AMD Radeon 7990 - the yellow and black themed interior is all cooled by 3x240mm radiators connected to hard acrylic tubing containing Mayhems Pastel Sunset Yellow coolant.
This PowerMac G4 has been modified with a door hinge, seeing the motherboard tray gain the ability to lie flat on your desk and flexible tubing implemented across the hinged area. The exterior features a nice black and white theme, helping tie off the case as a whole.