By now I'm sure you've read about the VRAM issues surrounding the GeForce GTX 970, and AMD taking a stab at NVIDIA because of it, but now the former is offering gamers special discounts if they return their GTX 970s and pick up a Radeon card.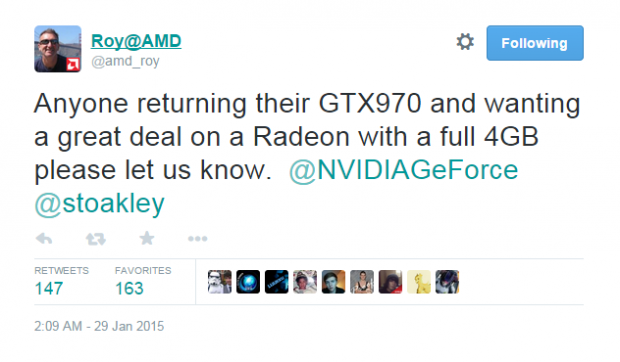 AMD's Roy Taylor has taken to Twitter, offering GTX 970 owners who return their cards special discounts if they swap them out for Radeon cards, including the R9 290 and R9 290X. Taylor tweeted "Anyone returning their GTX970 and wanting a great deal on a Radeon with a full 4GB please let us know" and even tagged the @NVIDIAGeForce Twitter account at the time.
Are you a GeForce GTX 970 owner? Will you be trading in your GTX 970 for the Radeon R9 290X?