Ideum Duet Smart Table runs both Windows and Android operating systems
Ideum launches a new line of smart tables that can run either Windows or Android operating systems.
Published Wed, Jan 28 2015 12:13 PM CST
|
Updated Tue, Nov 3 2020 12:10 PM CST
Ideum has launched a new line of smart tables that will run either Windows or Android operating systems, and users can switch between the operating systems easily. The Duet smart tables are available in 42 and 46-inch models, and they support a standard 1080p resolution. The tables support up to 60 simultaneous touch points in Windows 8, and 12 touchpoints with Android. The table itself is built with aircraft aluminum and cold rolled steel, and the screen has an anti-glare coating.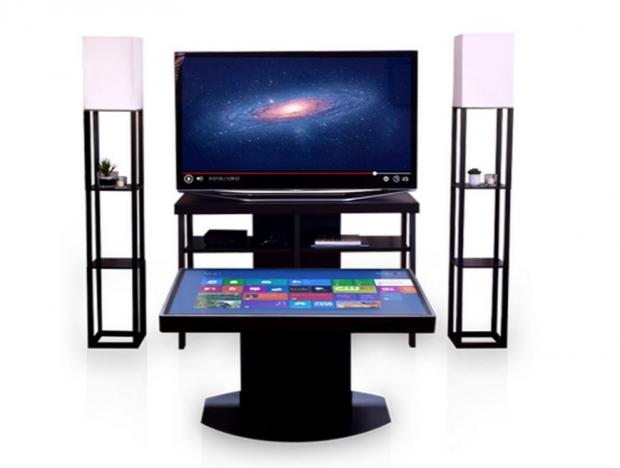 The tabletop is only 2.4 inches thick and has a slim bezel on top. Internally the table features two independent computers that run different operating systems, and users can switch via a hardware or software switch on the table. For Android use the table sports a 2.0Ghz Rockchip RK3288 with 2GB of RAM and 16GB of storage to power KitKat 4.4.
The table runs two different processors for Windows 8, depending upon the size of the table. A 3.2Ghz i5-4570R with onboard graphics, 8GB of RAM, and a 256 GB SSD, powers the 42 inch version. The 46-inch version is powered by a 3.5Ghz i7-4710 with 16GB of RAM and a 512GB SSD, but also employs a beefy NVIDIA GTX 760 CPU.

These dual sets of hardware will certainly add to the cost of the unit, an eye-watering $7,950, but the net effect is the ability to switch between operating systems in around two seconds. The tables are also waterproof. Ideum expects the table to be popular in professional settings, such as offices, museums, and universities. They also see the table as a good addition to any home. It may seem a bit over the top, but once there is a 4K version with Windows 10 I personally want one.
Related Tags