Australian PM Tony Abbott says social media is 'Electronic Graffiti'
The Australian Prime Minister Tony Abbott has likened Social Media to graffiti in a recent press conference.
Published Tue, Jan 27 2015 1:02 AM CST
|
Updated Tue, Nov 3 2020 12:10 PM CST
Yesterday was Australia day, often known as 'the day of the drunk bogan' but also a time to celebrate and reflect on everything that is Australia. 'The Land Down Under's' Prime Minister Tony Abbott celebrated this occasion by awarding Prince Philip with an Australian Knighthood, seeing major backlash among global social media.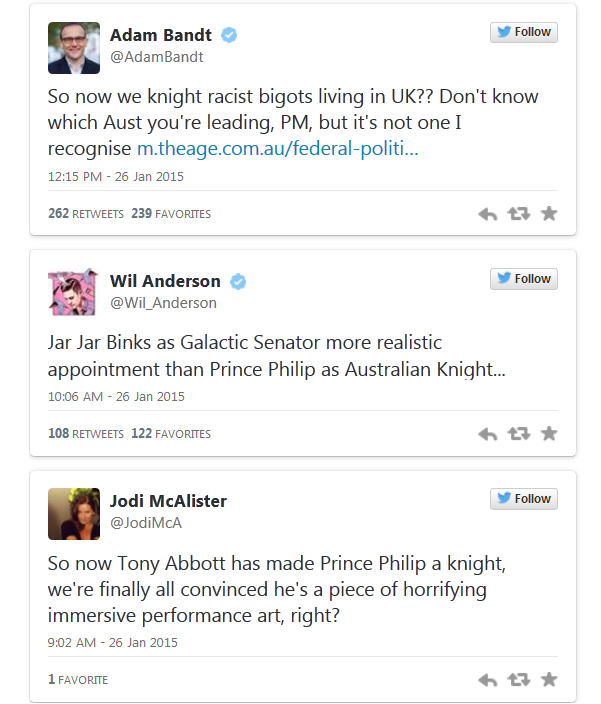 Mr. Abbott dismissed the haters, labeling social media as "electronic graffiti," disregarding members of the public and their opinions as slander.
When addressing the issue at a press conference, Mr. Abbott dismissed the online opinions and scolded the media for publishing them by stating "I'll leave social media to its own devices. Social media is kind of like electronic graffiti and I think that in the media, you make a big mistake to pay too much attention to social media. You wouldn't report what's sprayed up on the walls of buildings."
This is an interesting opinion, given Gizmodo and The Sydney Morning Herald have made us aware that Mr. Abbott's Australian government spends $5,000 AU per day on social media monitoring.
It's true that the 'vocal minority' can certainly get aggressive on social media when controversial things do happen, however you cant discredit everyone on social media as a blanket statement.
Related Tags