FCC attempts to increase broadband speed - nefarious ISP's resisting
The FCC wants to redefine just what a 'broadband internet' connection speed should be, but entrenched ISPs aren't happy.
Published Tue, Jan 27 2015 1:34 PM CST
|
Updated Tue, Nov 3 2020 12:10 PM CST
The FCC is attempting to expand the definition of broadband internet, but the usual suspects are lining up to oppose the move. The FCC wants broadband to be defined as 25Mbps down, and 3Mbps up, to match the reality of current generation internet connections. Unfortunately the entrenched ISP's want to leave the definition at a paltry 4Mbps download speed.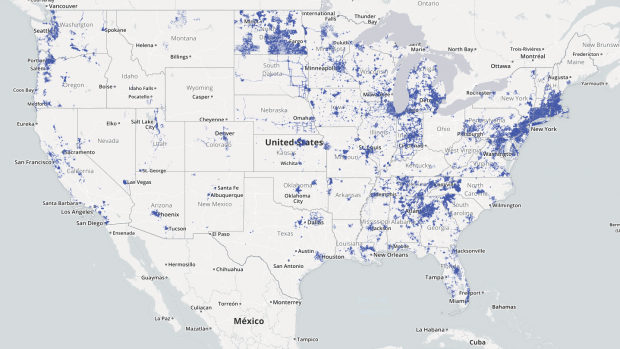 The map above illustrates just how depressingly slow the internet is at most locations in the US. The areas in blue all have access to speeds above 25Mbps, but the remainder of the map does not even have access to services that reach that speed.
The FCC has opened the floor for debate on the issue, and several cable companies have come forward to decry the new definition. The National Cable & Telecommunications Association (NCTA) is one of the most vocal opponents to the new classification system. This isn't surprising in light of the fact that current regulations stifle competition in many markets, a system that President Obama is trying to change through executive actions that remove much of the red tape for new telecom companies.
There are 19 states that have very restrictive policies that discourage open competition. This results in only 25% of US household actually having a choice between two providers who offer the base speed of 25 Mbps down and 3 Mbps up. Chattanooga, Tennessee, took the step of providing their own internet service with amazing results. For only $70 a month their residents enjoy gigabit speeds, and other providers in the area have been forced to lower their price-gouging rates in response.
The ISP's are facing increased pressure as the US continues to lag behind other countries in both the price, and the speed, of internet connections. Google Fiber recently announced more expansion of their network, and as they expand it will put more pressure on competitors to offer reasonable speed at a reasonable price.
Related Tags