NVIDIA rumored to release GeForce GTX TITAN X for $1350 with 6GB VRAM
NVIDIA's upcoming GM200-based GeForce GTX TITAN X to offer 6GB and 12GB variants, start at $1350.

Published Tue, Jan 20 2015 8:51 PM CST
|
Updated Tue, Nov 3 2020 12:10 PM CST
We've been reporting on pretty much every GPU rumor we can, as they're all exciting, but the next-gen TITAN X is shaping up into something more real with each passing day. Now we have some unconfirmed news that the GeForce GTX TITAN X will have an MSRP of $1350.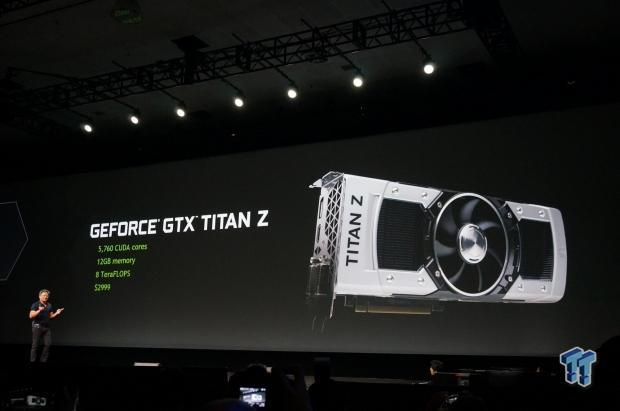 The stock card will be arriving with 6GB of VRAM, with 12GB of VRAM to arrive at a later date, or through various AIBs if they choose to splash the GPU with a titanic amount of VRAM. The TITAN X will be powered by the GM200 chip, which is the full chip that we've all been waiting for. The GM204 powers the GeForce GTX 980 and GTX 970 cards while the GM206 reportedly powers the GTX 960 which is said to be imminent.
NVIDIA could slightly cut down the die to start with, but the fully unleashed GM200 core should arrive on a 384-bit memory bus, feature 12GB of VRAM and a huge 3072 CUDA cores. A cut down version of this could feature between 2560 and 2816 CUDA cores, but it would still perform like a champion. The price however, is what has people talking, and with the current GTX TITAN Black Edition still commanding a price of around $1000 on Amazon, the $1350 price isn't too bad. "Isn't too bad" is something worth talking about, because for around $350 more we should see a nice 30-50% performance increase given the specs. The 12GB of RAM is going to come in handy for future titles and super massive multi-monitor setups, which is something I will be getting into in March with these cards if they do materialize.
Related Tags