Silicon Motion Testing Exotic 3bit per Cell Flash at CES 2015
Silicon Motion Testing Exotic 3bit per Cell Flash at CES 2015.
Published Fri, Jan 9 2015 8:30 AM CST
|
Updated Tue, Nov 3 2020 12:11 PM CST
CES 2015 - Today we spoke with Silicon Motion (SMI) on several topics, but later learned more details that helped to piece a puzzle together. Analyst reports show that 3bit per cell (TLC) will quickly overtake 2bit per cell (MLC) NAND in the future. Samsung dominates the 3bit per cell area, but SanDisk has also started shipping products with the technology. Toshiba will soon follow suit, the company actually produces TLC wafers with SanDisk in the Flash Forward joint venture. It's been stated that Micron will have TLC ready for consumer SSD devices as early as Q2 2015, and the technology is already utilized in other product types from Micron/Lexar/Crucial, such as SD cards.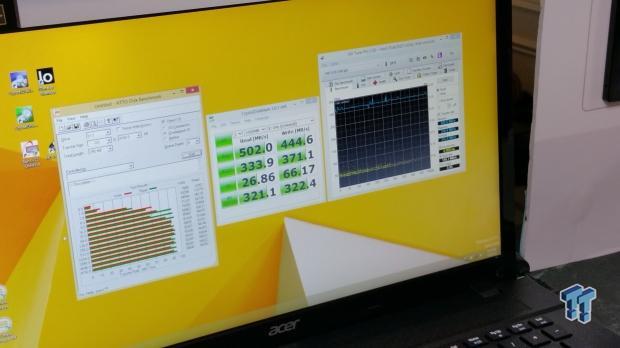 Silicon Motion's upcoming SM2256 controller was designed exclusively to usher in the TLC era, and today we saw the controller working inside this laptop with Samsung TLC flash. At this time only two companies selling to the channel use Samsung NAND flash - Samsung and Seagate.
Samsung already has two existing low cost consumer SSD products on the market with 3bit per cell flash, the 840 EVO and 850 EVO. This leaves us to wonder why Silicon Motion would spend valuable engineering resources with Samsung TLC NAND. Enter Seagate and the the company's strategic alliance with Samsung for guaranteed Samsung flash, as seen with the Seagate 1200 SSD. Did we inadvertently just capture a quick look at what may be an early test of a Seagate consumer SSD that uses a Silicon Motion controller today?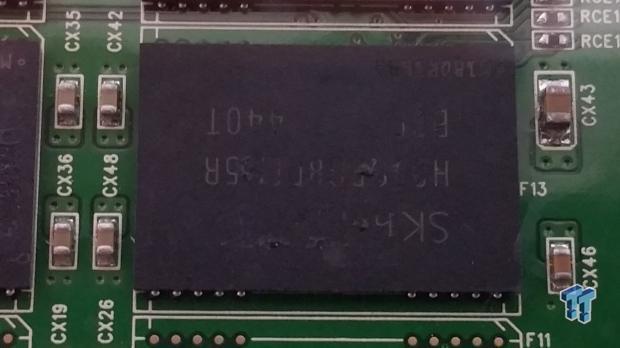 A rumor floating around CES 2015 is that Intel will soon announce a low cost consumer SSD that also uses a Silicon Motion controller. Intel didn't invest with Micron in 16nm lithography manufacturing, choosing instead to bring in SK Hynix flash as a stopgap until the IMFT (Intel Micron Flash Technology) 3D NAND transition takes place sometime in mid to late 2015. Today we observed a Silicon Motion SM2256 controller paired with SK Hynix TLC NAND flash. SK Hynix acquired Link_A_Media Devices more than two years ago, but from a finished product point of view, the LAMD products have stalled.
In summary, not only do we feel we've caught a glimpse of a Seagate product, but also a potential product for Intel as well.
Related Tags