ADATA displays Seagate's SandForce SF3700 - We run exclusive tests
We ran a few tests on Seagate's long-awaited SandForce SF3700 SSD controller at CES 2015.
Published Fri, Jan 9 2015 9:00 AM CST
|
Updated Tue, Nov 3 2020 12:11 PM CST
CES 2015 -ADATA had a working reference Seagate SandForce SF3700 SSD on display at CES 2015. The SF3700 has run over the expected release date, but with manufacturers highlighting the SF3700 in working demo's we know the controller is coming closer to market. Speculation is that shipping products will be ready around June, which is around the Computex trade show.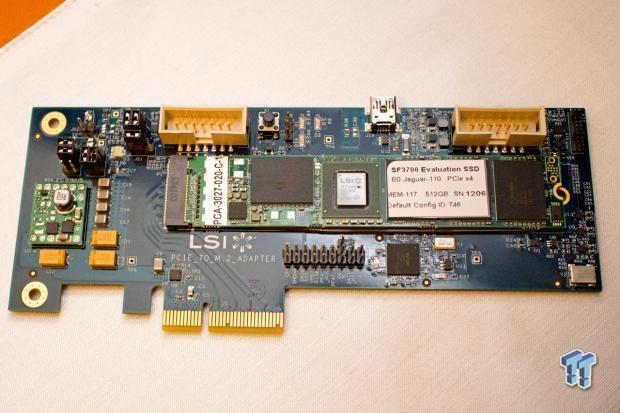 The demonstration was powered by a SandForce SSD placed on a PCB adapter board which allows an M.2 SSD to work over a standard PCIe slot. The SF3700 controller on display, commonly referred to by the code-name Griffen, communicates over a PCIe 2.0 x4 connection, though a x2 variant is also under development. The Griffen controller can communicate via either the AHCI or the NVMe protocol across the PCIe connection.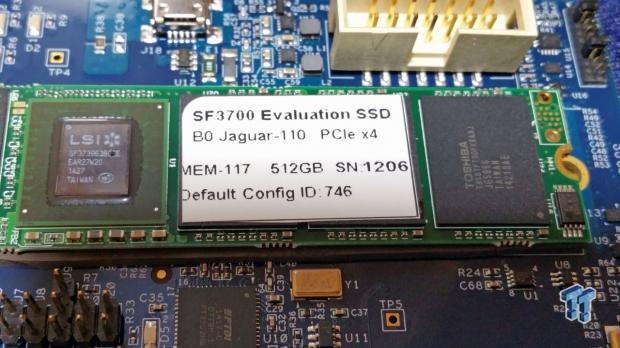 An important distinction between earlier demo's is the fact that the working demo was running without a heat sink. This points to continued optimization of the power consumption metrics, which relate directly to heat generation. The SF3700 has several key technologies, such as DEVSLP functionality, to allow it to operate within a very low power and thermal envelope.
The Jaguar codename on the demo board refers to a reference PCB design offered by SandForce, not the actual Griffen controller. The board contains 512GB of Toshiba A19nm flash. The SF3700 controller itself still bears LSI branding, a holdover from SandForce's parent company before the Seagate acquisition.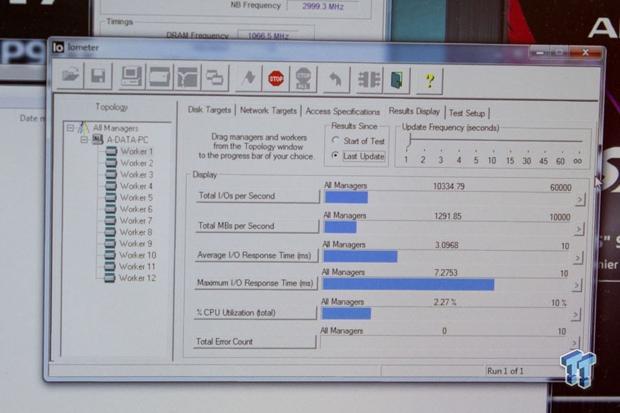 Before we dig into test results we must warn that these results are from an early development model. Actual final performance measurements are likely to be higher after the final touches are put on the firmware. The standard test being demonstrated consists of a sequential 80/20 read/write mix, and the SF3700 pulls down 1,291 MB/s during the test.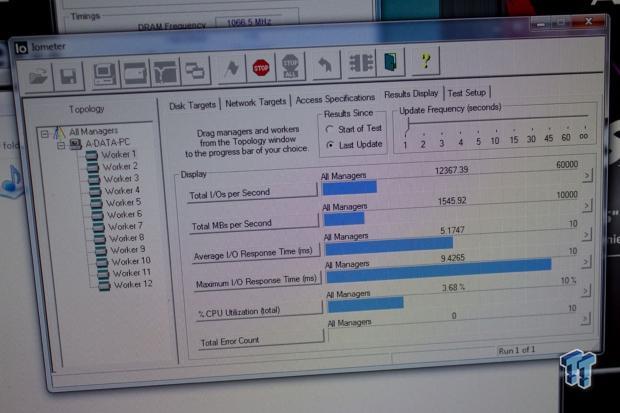 We managed to run a 100% sequential write workload to the device at QD64 and pulled off an impressive 1,545 MB/s.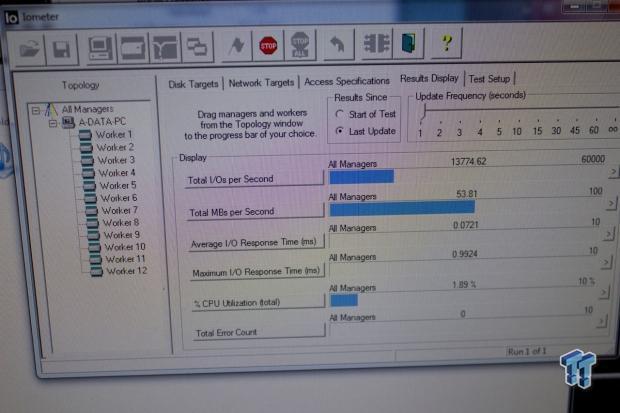 Testing with a 4k random workload at a queue depth of 1 reveals the industry standard latency measurement of the device. The SF3700 weighs in with an average of .07ms, and a notably good maximum latency measurement of .99ms.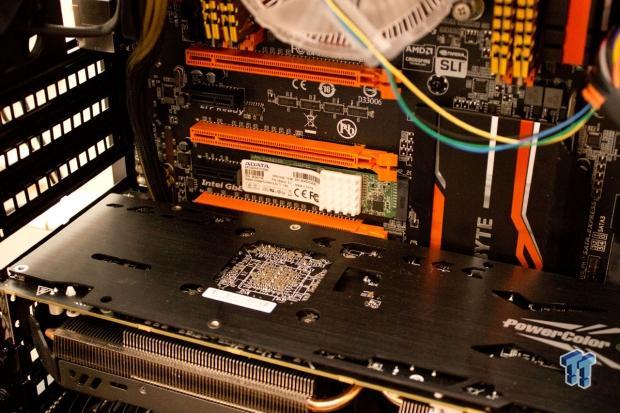 The product in ADATA's implementation is connected directly underneath the working demo model. We can spot it with a white heat sink in-between the PCIe slots.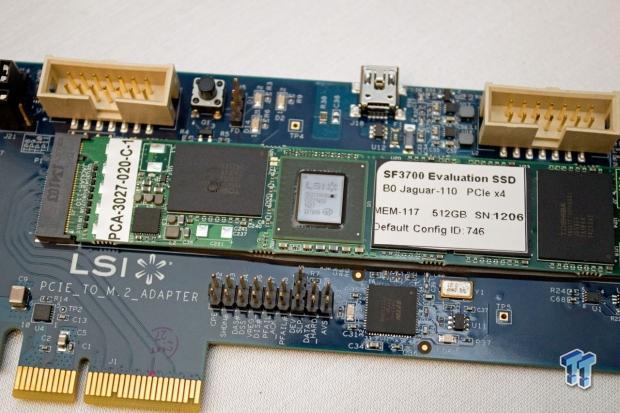 One advantage of the Seagate/SandForce architecture is the lack of DRAM caching. This removes many of the risks associated with power loss, and also will enable much smaller form factors in the future.
Related Tags