Silicon Motion Penetrating NAND Flash Fabs - SMI on the Rise
Silicon Motion Penetrating NAND Flash Fabs with their innovative new controllers.
Published Fri, Jan 9 2015 1:24 AM CST
|
Updated Tue, Nov 3 2020 12:11 PM CST
CES 2015 - Over the last year we've often discussed Silicon Motion's rise in the SSD controller space. The fabless semiconductor's SM2246EN controller was well received, first by smaller SSD manufacturers, and now by NAND flash fabs.
This week, SanDisk announced the new SSD Plus that is priced less than $70 in 128GB. The SSD Plus won't break any performance records but is clearly designed to break price barriers. SanDisk didn't brief media before introducing the SSD Plus at Storage Visions 2015, but since that time we've learned that Silicon Motion is inside with a custom variant of the SM2246EN controller.
Getting one NAND fab company to use your controller is a big step for a controller maker that was virtually unheard of one year ago. Getting two is big news for investors. Just days after the SanDisk announcement, Crucial, a division of Lexar and also a NAND flash manufacturer, announced the new BX100. Again, this new low cost consumer SSD with 16nm MLC flash is managed by a Silicon Motion SM2246EN controller.
They say when it comes it comes in threes. Analysts have recently come forward to state that Intel, a partner with Micron/Crucial/Lexar, has chosen a Silicon Motion controller for an unannounced consumer SSD that should break cover in the coming months. Most likely Intel will brand the new product in the 300 Series family, a low cost series that again is designed to increase the adoption rate of solid state storage technology, replacing mechanical hard drives.

None of this is all that radical when you know the history of the SSD market. SandForce quickly came to power but acquisitions and long product delays have left the door open for Silicon Motion to get a foot in the door. Now that Silicon Motion is sitting at the table, we think the real objective is for the company to use SM2246EN as a stepping stone for SM2256, a flash controller that takes advantage of new 3bit per cell technology that will further reduce the cost of solid state storage technology to consumers.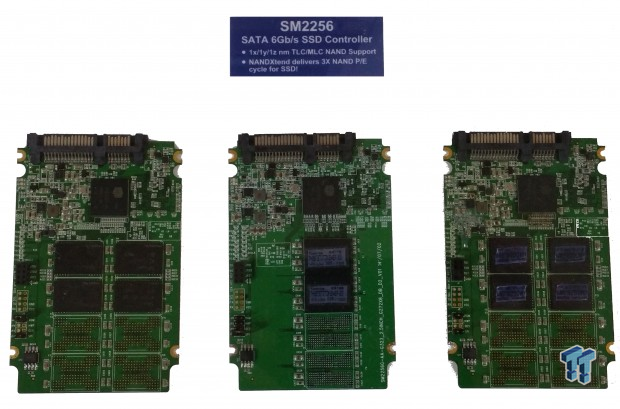 At this time, the NAND flash fab companies are also focusing engineering resources on high margin enterprise products. SMI provides reference designs, controller hardware, and firmware. This provides a low 4-month turn around, speeding time to market, which is opening more doors for the company.
Related Tags