We go hands-on with the Oculus Rift Crescent Bay prototype at CES 2015
Oculus VR shows us their latest Rift prototype, known as Crescent Bay, the best version of the Rift yet.

Published Thu, Jan 8 2015 9:12 PM CST
|
Updated Tue, Nov 3 2020 12:11 PM CST
CES 2015 - Oculus VR had a gigantic setup at CES 2015 this year, but they were hosting private meetings for people to go in and check things out, so we set one up quite sometime ago to ensure we could get our hands, and eyes on the latest Rift prototype.
We stopped in and had a chat with Oculus VR's VP of Product, Nate Mitchell, who is one of the best guys in the industry. He walked us over the new Rift prototype known as "Crescent Bay", something that was shown off at Oculus Connect a few months ago. This is the first time the new Rift headset has been open to the public to test out, which is why we wanted to get down there and check things out.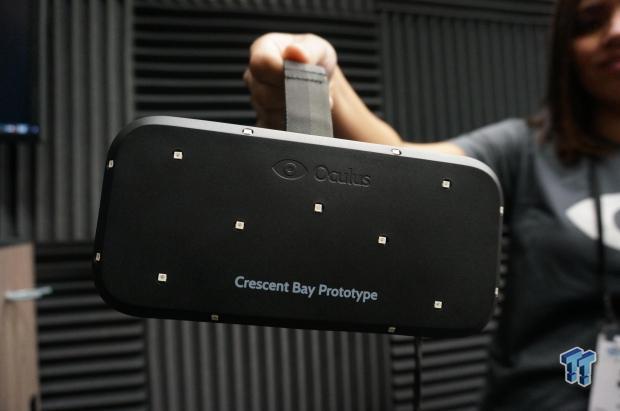 The current DK2 unit has a 1920x1080 resolution, thanks to the Galaxy Note 3 panel it features inside of it. Oculus isn't stating what resolution the new Crescent Bay prototype is running at, but from my short time with it, I suspect we're seeing a 1440p panel, with some form of resolution scaling. Similar to NVIDIA's Dynamic Super Resolution (DSR) technology, where it renders a larger picture, and then scales it down to the resolution of the monitor, or in this case, the VR headset.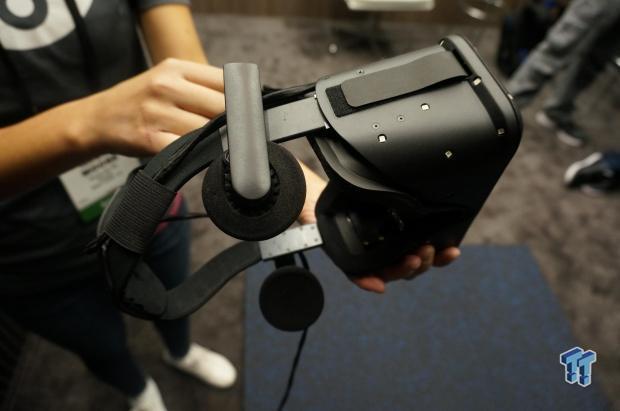 The new Crescent Bay headset felt noticeably lighter than the DK2 unit, with a much better spot for your nose. Again, this was just some short time with it, but it definitely felt better on my head, and my nose, than the DK1 and DK2 do.
If you didn't know, Oculus VR have installed some headphones to the new Crescent Bay prototype, with some very impressive audio technology being used. This is one of the bigger changes of the DK2 to the Crescent Bay unit, with a more concentrated effort on audio, which is nearly as, if not just as important as the visual side of things for the 'presence' that Oculus is aiming for.
One of the demos that Oculus had playing on the Crescent Bay prototype was the Unreal Engine 4-powered "Car Flip" demo. We saw this at the NVIDIA Editor's Day 2014 in Monterey Bay last year, where the company unleashed its new Maxwell architecture, and the GeForce GTX 980 and GTX 970 GPUs.
Related Tags