Phison Shows 2TB Consumer SSD with Toshiba 16-Layer MLC Flash
Phison Shows 2TB Consumer SSD with Toshiba 16-Layer MLC Flash.
Published Thu, Jan 8 2015 7:12 PM CST
|
Updated Tue, Nov 3 2020 12:11 PM CST
CES 2015 - Get ready ladies and gentleman. The time has come for your dreams to be fullfilled. For the first time Phison Electronics displayed what may be the first 2TB consumer SSD in a 2.5" form factor. This isn't a 15mm z-height SAS SSD from the enterprise world, but a true to name, 2.5" drive. From what we can tell, the internals should even fit in a 7mm z-height case like the new Corsair Neutron XT that also uses the new Phison S10 controller.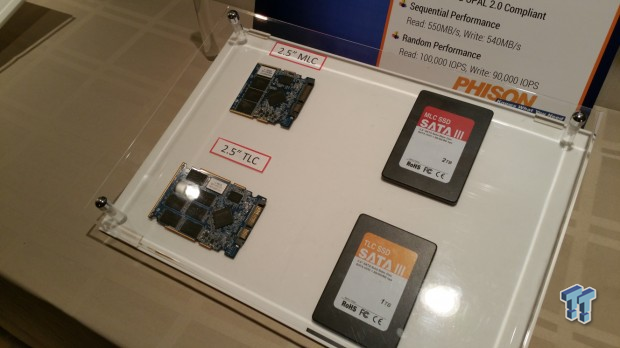 As you are well aware now, Phison is a controller maker that also included firmware for customers who's names you are more familiar with, such as Patriot, Corsair, My Digital SSD and so on. The new S10 controller was already rolled out in the Corsair Neutron XT SSD and more recently the Patriot Inferno.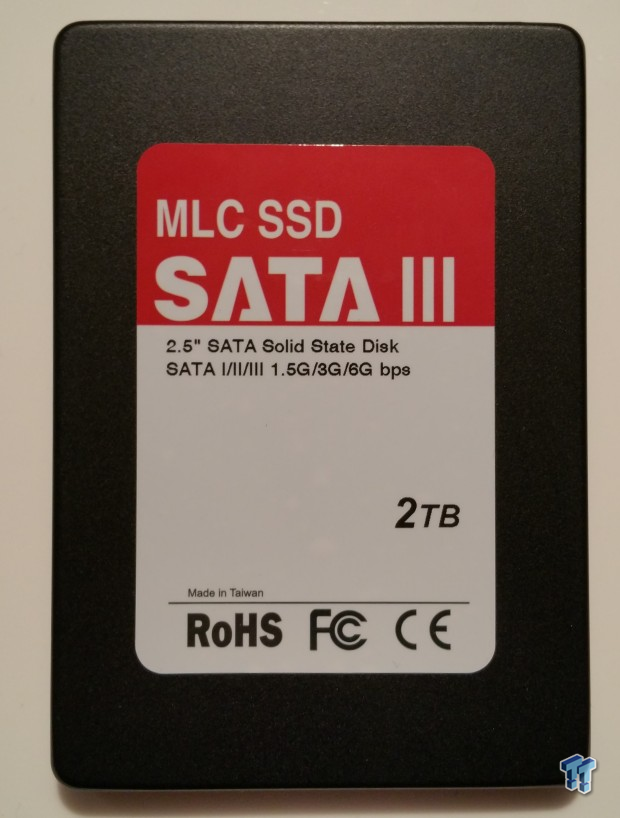 Neither the Neutron XT nor the Inferno were announced in a 2TB class but we have to wonder how long it would be before one of these innovative companies breaks the mold and delivers the first 2TB SSD that power users, enthusiasts, and prosumers are demanding from SSD manufacturers.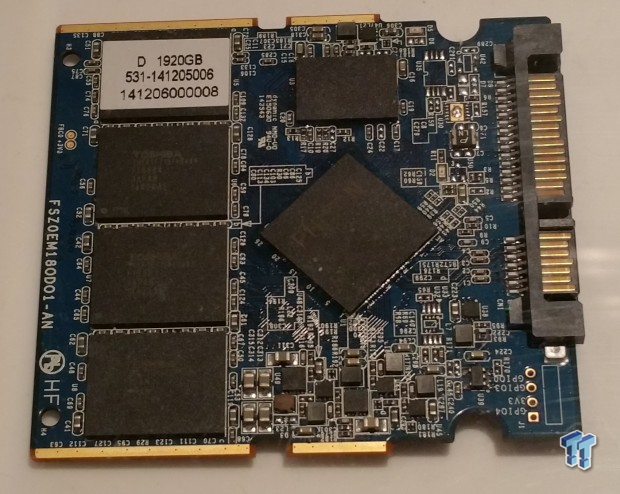 The tag on the top right Toshiba A19 Toggle 2 NAND package shows an overprovisioned capacity size of 1920GB. The actual PCB is a 3/4 size (in relation to the length of the 2.5" form factor casing used on SSD products). This reduces the cost of manufacturing slightly. Any cost reductions are welcome since the majority of the cost goes into the NAND flash on consumer SSDs. We can blindly say that 2TB of NAND flash is going to cost quite a bit.
Phison was able to achieve this landmark density by using Toshiba A19 (second generation 19nm) flash that is stacked 16 die per package. There are eight packages total, four on each side. There is also at least a single DRAM package of unknown density, and we suspect there is a second DRAM package on the other side, but we didn't get a chance to verify this.
Related Tags