Strings, a new app that lets you un-send your messages
A new app lets you un-send those drunken messages, with Strings coming to the rescue.

Published Sun, Jan 4 2015 4:34 PM CST
|
Updated Tue, Nov 3 2020 12:11 PM CST
A new app is hitting the market, with Strings capable of un-sending those messages that you didn't want to send in the first place. Maybe you were drunk, maybe you didn't mean to send them, Strings will un-send those items for you.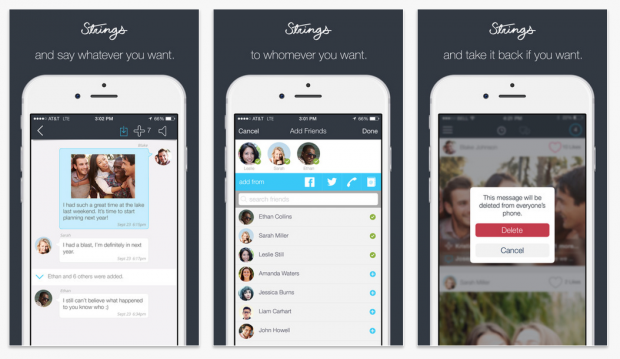 Strings works like any other messaging app, such as WhatsApp, except it allows you to take back messages after you've sent them. It will work with multiple formats, including text messages, e-mails, photos and videos of unlimited length, and more. The sender also has control of whether or not the recipient has the ability to save, and download the sent content.
The offending material is deleted from the recipients' smartphone, and Strings' servers permanently, as soon as the request is put into the app. The biggest thing here, is that both sides need to be using the app, which will surely cut down on the usefulness of Strings. But, at least it's here, and available for people to use. Strings is available from the App Store for iDevices, with an update arriving in a week or so. Android devices should get it in the future, but there's no word on that yet.
Related Tags