A full FBI investigation thanks to a Pastebin joke against the CNN
A man is brought in for questioning on New Years Day thanks to a fake GOP threat against the CNN.
Published Sat, Jan 3 2015 7:05 PM CST
|
Updated Tue, Nov 3 2020 12:11 PM CST
Remember how children these days are taught not to 'joke' about security when in an airport? The same should go for online mediums. Homeland Security blogger, David Garrett Jr., spent his new years day being questioned by the FBI - thanks to an apparent joke in which he 'threatened' CNN, posing as a GOP member and leading the FBI to believe the threats to be real.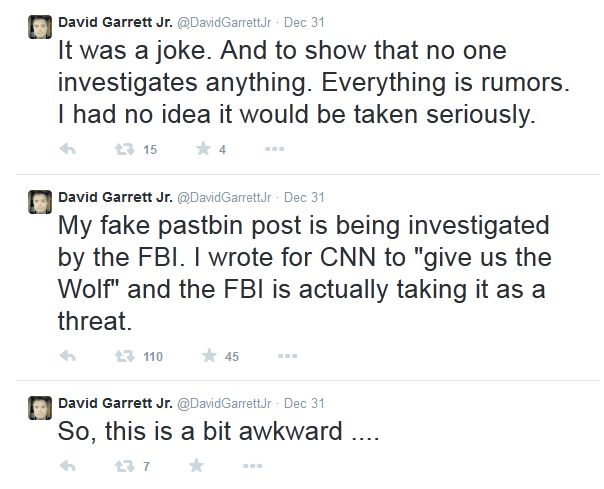 Thankfully for Garrett, this was poised as a joke and he 'came clean' straight away. In a statement to Fusion, Garrett claimed that a FBI investigator wisely told him "in the future, it's a good idea not to pretend to be someone they're investigating."
In the end everyone has come out unharmed with the only cost being a waste of the FBI's time. Take note kids, sometimes the feds can press charges and make arrests even for what you might think is a joke - luckily in this case, Garrett was let go without prosecution.
The reason that the FBI thought he may be a part of the Sony hacker collective was due to this entity also commonly using Pastebin.
Related Tags