According to a publication by Wikibon, "Flash will become a lower cost media than disk for almost all storage in 2016." This will mark a new era in today's digital age - seeing faster storage capacities become mainstream.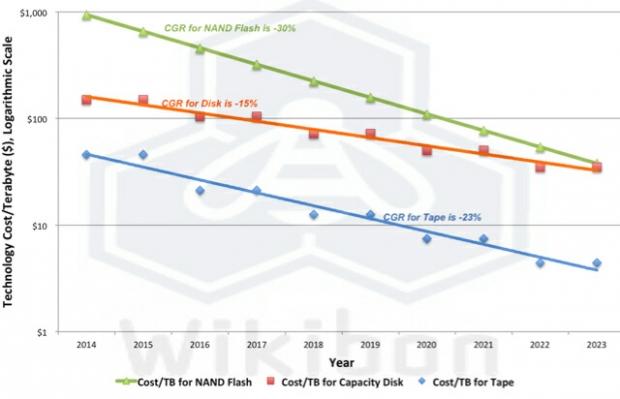 Do you remember when you first installed your SSD? Something under 25 seconds to completely re-boot your system was simply unheard of in HDD-only days, seeing you often click that restart button and adventure out to the kitchen to grab a drink or a snack. Well now according to Wikibon, we're only a couple of years off seeing flash memory price-match or even become cheaper than hard disk technology for always-on enterprise applications.
The main limitation of flash memory in this day and age is the price per GB on offer. For sub-$100 you can now easily purchase a 2TB data drive to store all of your photos, home videos and various backup data - this is compared to a hefty price tag of $3,301 for a comparable SSD offering from SanDisk.
Given this information, don't expect 4TB SSD's to be running off the shelves any time soon for the client segment, even though large volumes are in huge demand in the datacenter. However, if you're looking for a handy 1TB C-drive, the faster alternative for consumers continues to drop in price.
This article also covers the facts about hard disk improvements and if they ever have the chance to closely match or somewhat catch up to flash technology. It's claimed that "Seagate introduced flash as a buffer on each disk as an alternative approach. However, the uptake of this technology has been paltry for two main reasons:
Buffers are a partial solution, not nearly as good to (say) a PC end-user as all-flash storage as Apple has shown with the success of the all-flash "Air" products.

Separate buffers on each disk is a sub-optimum way of designing buffers, both for IO average latency and more important IO latency variance (jitter)"
The short of this story is that by 2016, technology will have advanced far enough that you might start looking into flash-storage architecture for all of your datacenter storage needs and leaving the old HDDs on the shelf.