Star Citizen edges close to $64 million, announces pet system
Pets will soon be unlocked in Star Citizen, after getting close to the $64 million mark in crowdfunding.

Published Fri, Nov 28 2014 1:35 AM CST
|
Updated Tue, Nov 3 2020 12:13 PM CST
Star Citizen is edging close to $64 million in crowdfunding, with the CryEngine-powered title sitting at just under $63.5 million at the time of writing. Roberts Space Industries has now announced that there will be a pet system introduced once the game hits $64 million.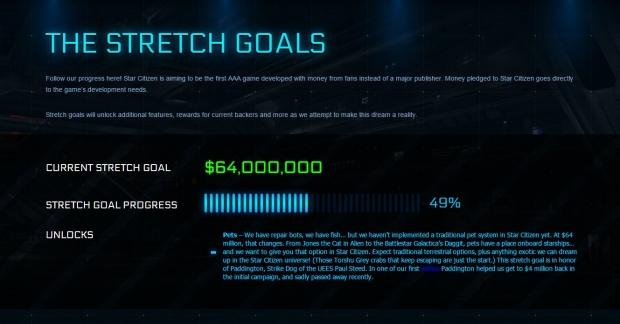 RSI explains it as: "Pets - We have repair bots, we have fish... but we haven't implemented a traditional pet system in Star Citizen yet. At $64 million, that changes. From Jones the Cat in Alien to the Battlestar Galactica's Daggit, pets have a place onboard starships... and we want to give you that option in Star Citizen. Expect traditional terrestrial options, plus anything exotic we can dream up in the Star Citizen universe! (Those Torshu Grey crabs that keep escaping are just the start.) This stretch goal is in honor of Paddington, Strike Dog of the UEES Paul Steed. In one of our first videos Paddington helped us get to $4 million back in the initial campaign, and sadly passed away recently".
Related Tags