ATSC lays out path to 100 TB HDDs by 2025
100 TB HDD's are soon going to be possible by utilizing incredible new magnetic recording technology.
Published Tue, Nov 25 2014 10:18 AM CST
|
Updated Tue, Nov 3 2020 12:13 PM CST
The quest for more storage has led to revolutionary breakthroughs in HDD technology. SSDs get the most attention in the storage world, but the incredible technology that goes into HDDs has created some of the most refined precision instruments in history. HDD density has increased 500 million fold since the initial designs were released in 1956. During the recent MMM (Magnetism and Magnetic Materials) Conference the ASTC (Advanced Storage Technology Consortium) laid out the continuing path of progress on the HDD front. Acronyms aside, the demand for more storage has resulted in billions of dollars in investments in new technology, and these new techniques are pushing us forward on the path to 100TB HDDs by 2025.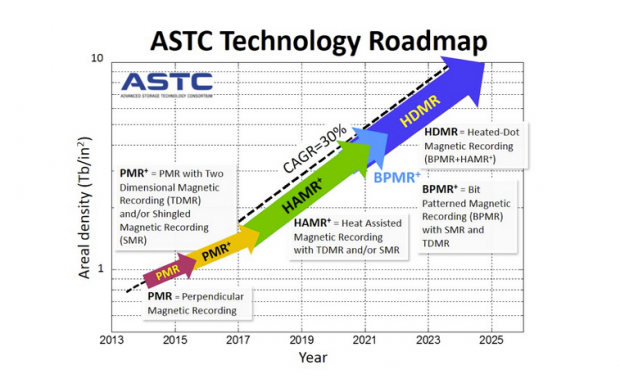 There are already 10TB HDDs on the menu for 2015, but they utilize SMR (Shingled Magnetic Recording) technology, which has some performance pitfalls. Helium drives have also come to the forefront in the quest for more density, and as demonstrated in our HGST Ultrastar He6 6TB Helium Enterprise HDD Review they deliver increased density, lower power consumption, and don't skimp on performance.
These radical new advancements are required because the pace of density increases have slowed as we reach the limits of current HDD recording technology (PMR). According to the ASTC, and several industry sources, HAMR should arrive in 2017. This will speed the annual density growth rate to 30%, which is a considerable increase from the current 15% annual increase. BPMR (Bit-Patterned Magnetic Recording) is the next step to realize incredible increases in density, and that is slated for release in the 2021 timeframe. Combining HAMR and BPMR seems to be a very promising approach that will deliver 10X the density of current HDDs, or 100 TB drives, by 2025.
Related Tags