Elon Musk says the pace of progress is 'close to exponential' for AI
Tesla and SpaceX founder says that the pace of progress in artificial intelligence is 'incredibly fast' and it is 'growing at a pace close to exponential'

Published Fri, Nov 21 2014 12:44 AM CST
|
Updated Tue, Nov 3 2020 12:13 PM CST
In a comment made on an essay written by 'virtual godfather' Jaron Lanier, titled "The Myth of A.I." on Edge.org last week, SpaceX and Tesla founder Elon Musk the threats of AI might become real, and that he is worried that "the risk of something seriously dangerous happening is in the five year time frame. 10 years at most" according to CNET.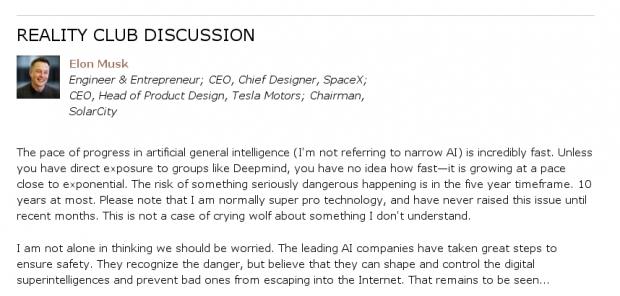 Musk posted his comments on the Edge.org, but they were quickly removed; not quick enough for some media outlets to pick it up, though. Musk talked about his involvement as an early investor in the British artificial intelligence company, DeepMind, which is now a cog in Google's ever-growing machine. He wrote: "The pace of progress in artificial intelligence (I'm not referring to narrow AI) is incredibly fast. Unless you have direct exposure to groups like DeepMind, you have no idea how fast-it is growing at a pace close to exponential".
The founder of SpaceX continued, saying that AI companies "recognize the danger" and are working toward controlling the "bad" superintelligences "from escaping the Internet". Well, that sounds safe enough.
Related Tags