Intel boosts DC S3500 capacity to 1.6TB and adds M.2 option
Intel's value-oriented DC S3500 series has enjoyed great success, but more capacity and slimmer form factors are always welcome.
Published Tue, Nov 11 2014 11:02 AM CST
|
Updated Tue, Nov 3 2020 12:13 PM CST
The Intel DC S3500 series competes in the price-sensitive segment and is geared for read-intensive and mixed workloads. The DC S3500 (evaluated here) doesn't sport quite the performance of its older brother, the DC S3700 (evaluated here), but provides plenty of performance and endurance for many workloads. Today Intel is announcing the release of 1.2 and 1.6TB variants, along with a new M.2 design. Expanded capacity is coupled with low power consumption that delivers reduced TCO. The DC S3500 has an active read power below 1.3 Watts. A sprinkling of other datacenter-specific technologies provide resiliency and a 0.3DWPD (Drive Writes Per Day) endurance limitation. End-to-end data protection, data redundancy technology, AES encryption, and power loss protection, ensure data safety.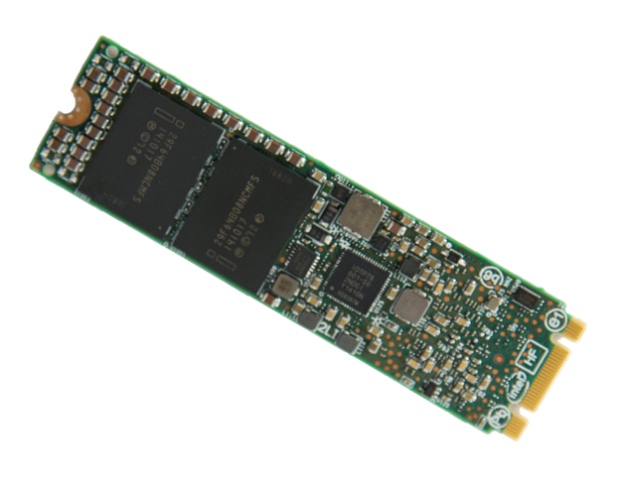 Intel 20nm MLC NAND and a new 8-channel controller drive the DC S3500 models. Details are scant on the new Intel-proprietary controllers, but we will update readers as more information becomes available. We can expect to see the same consistent performance from the new drives, with a .5ms latency maximum for 99.9% of 4k random read IOPS. There are 10 capacity points available for the 2.5 drives, allowing users to tailor capacity for their specific needs. The high-capacity 2.5" variants feature up to 500/460 MB/s of sequential read/write speed and up to 65,000/18,500 random read/write IOPS. The larger pool of flash provides a bit more performance for the high-capacity variants, but the entire DC S3500 range features varying speeds based upon capacity.
The M.2 design relies upon the SATA interface and comes in 80, 120, and 340GB capacities. The performance of the M.2 variant seems tuned for slightly more random write speed than the similar capacity 2.5" variants, but slightly lower read speed. Intel is expecting the compact M.2 design to make a big splash in embedded applications, such as digital signage and slot machines. The M.2 design will also work well for server boot volumes. The ultra-dense design is particularly well-suited for blade and microserver designs, and some OEMs are in the process of developing systems with multiple M.2 connectors.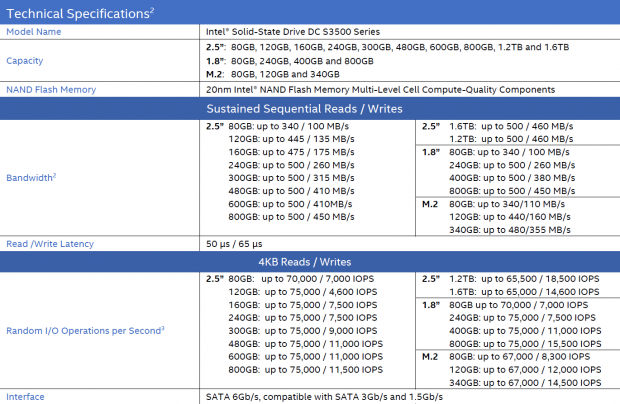 The M.2 drives leverage the same features, such as power-loss protection, as the larger 2.5" drives. There is a slight reduction in typical power consumption to 4W, and the idle power draw drops to 500mW. One notable difference is the reduction in the operating temperature range. 2.5" devices have the benefit of thermal pads that transfer heat from the components into the case of the drive. This allows the drive to act as a large heat sink. The 2.5" drives top out at 70C, but the M.2 drives, with no case or thermal padding, top out at 60C. Typical server designs provide a copious amount of airflow, and both 2.5" and M.2 variants feature thermal throttling, which slows the drive or shuts it down when it passes the recommended thermal envelope.
The Intel ISDCT management tool worka with all of the DC S3500 drives. This simple command line interface tool isn't as refined as GUI-based utilities, but it gets the job done. Intel is committed to remaining very competitive in a price-sensitive market, and the 1.2 and 1.6TB versions feature an MSRP of $1,099 and $1,444, respectively. The M.2 80, 120, and 340GB models will retail for $99, $124, and $314, respectively.
As always, head over to our IT/Datacenter section for the latest competitive performance analysis of leading enterprise storage products, including Intel's flaghsip DC P3700 1.6TB PCIe NVMe Enterprise SSD.
Related Tags