Mars One co-founder on colonizing Mars: 'next giant leap for mankind'
Colonizing Mars will be the 'next giant leap for mankind' according to the CEO and co-founder of Mars One.

Published Sun, Nov 9 2014 12:50 AM CST
|
Updated Tue, Nov 3 2020 12:13 PM CST
The Mars One project is an ambitious program, where Mars One wants to see human beings on the red planet by 2025. Not only that, but Mars One CEO and co-founder Bas Lansdorp has said that he wants to leave the astronauts on Mars, and establish a self-sufficient settlement.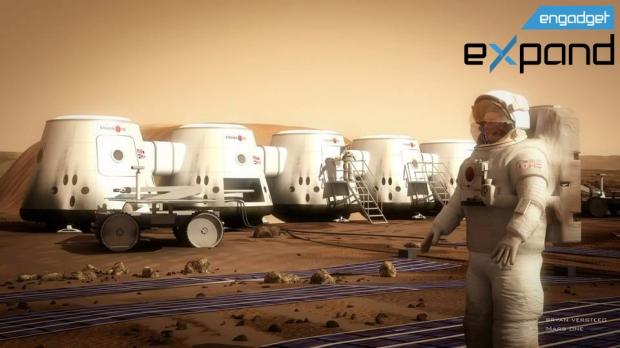 During the Engadget Expand show, there was a Life on Mars event where Lansdorp took the stage to talk about all-things Mars. He said that human settlement on the planet isn't just challenging, but it's almost close to achievable. He explained that the technology required for the Mars One project to succeed already exists, so that side of the problem isn't that bad. Then we have the issue of blasting a rocket in the right direction for the trip to succeed, with the first Mars One probe to touch down in 2018, and another to hit the red planet in 2020.
In 2022, life support systems and other essential equipment will be sent to Mars ahead of the first manned missions to the red planet, something that will launch in 2024 if all things go to plan. Why bother going to Mars? Lansdorp has said that it's simple, it's just "progress". He said that's why the human race is such a successful species, is that we're always pushing the boundaries. He said that the Mars One project is an excuse to expand on our exploration of the cosmos, where he hopes that the adventure to Mars will bring together the world in "one common goal". He added that by televising the journey of the first off-world settlers, we can live with them. He teased that "it's literally the next giant leap for mankind".
Apart from the technology, what are the biggest hurdles of Mars One? According to Lansdorp, it's finding the right people to send on the one-way trip. The team dynamics need to be close to perfect, in order for the colonization of Mars to succeed. He said that the explorers would be selected, and trained over the course of the next 10 years, being put through some pretty insane tests before being sent into the dark beyond. The training will involve living in a mock colony, cut off from all support, with artificially-created problems being thrown into the mix. One of the biggest problems that Lansdorp says humans have in space: a broken, and smelly toilet.
Related Tags