Samsung teases 6-inch 4K AMOLED panel with 700PPI+ for Galaxy Note 5
Samsung teases an incredible new mobile display, a 6-inch 4K display that should make it into the Galaxy Note 5, and even the Oculus Rift CV1.

Published Fri, Nov 7 2014 8:18 AM CST
|
Updated Tue, Nov 3 2020 12:13 PM CST
The Galaxy Note 4 is barely here, and here we are: talking about the Galaxy Note 5. Well, PhoneArena is reporting that the next Galaxy Note smartphone will sport a 5.9-inch 4K Super AMOLED display, which will be pushing 700PPI, with manufacturing to begin in August of 2015.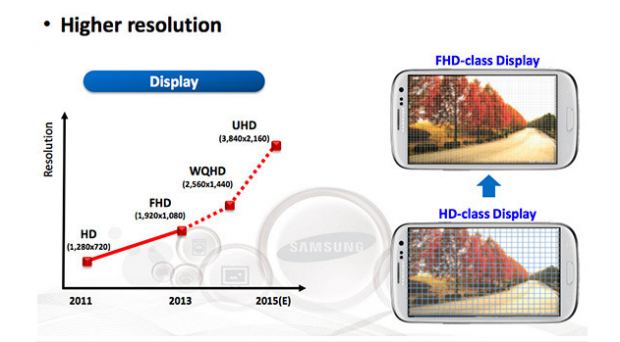 This puts it right into the time frame of the next Galaxy Note announcement, which is around September of every year. Samsung has confirmed the new 3840x2160 AMOLED panel for mobiles itself, during its Analyst Days presentations last year, as well as it telling the world at the Semiconductor and Display Technology Roadmap workshop back in January of this year.
What makes this interesting, is that a 5.9-inch 4K panel would be absolutely perfect for the Oculus Rift, and considering Samsung has a strong partnership with Oculus VR, this could be the display Oculus has been waiting for.
Related Tags