Seagate announces availability of Kinetic Open Storage platform
Need a nearly infinitely scalable file system that connects via Ethernet with no other hardware? Then Seagate's Kinetic platform is for you.
Published Wed, Nov 5 2014 10:00 AM CST
|
Updated Tue, Nov 3 2020 12:13 PM CST
Seagate has announced their Kinetic HDD, which connects via dual Ethernet ports and leverages the Seagate Kinetic Open Storage platform. Seagate has developed an entire ecosystem to support the new approach, which removes the need for a dedicated storage tier. The goal is to reduce the price of infrastructure to realize a TCO reduction of 50%. The open-source Kinetic API utilizes object storage, which circumvents the hindrances of normal file system architectures. This removes the software stack and allows applications to communicate directly with the Kinetic HDD.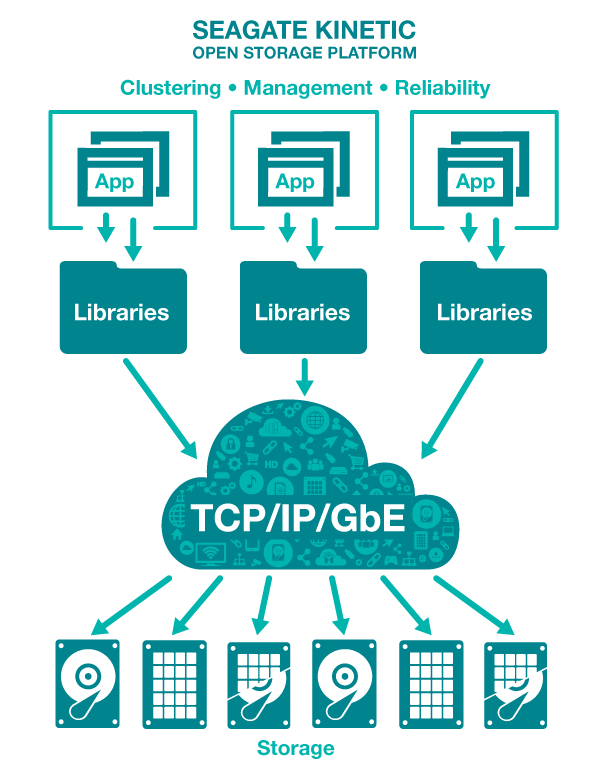 Kinetic HDDs reside in backplanes that have two embedded Ethernet connections for each drive. This provides a dual port active/active connection. The typical deployment then utilizes two 10Gbe Ethernet connections to communicate with the server. HDDs can also speak directly to each other, without going through the operating system, streamlining operations such as disk-to-disk replication and minimizing overall network traffic to the server. Ethernet is widely deployed and presents the ability to use existing infrastructure for IP-based management.
The Kinetic platform also provides performance benefits. Seagate has observed a 4X increase in random write speed, due to the lack of metadata and queuing processes from legacy filesystems and operating system interaction. The new 4TB Kinetic drive is available for customer qualification now, and general availability begins at the end of November. For the latest in enterprise HDD technology head to our IT/Datacenter section for in-depth competitive performance analysis of Seagate and other leading manufacturers latest HDDs.
Related Tags