Corsair Gaming shows off a slew of gaming goods at PAX Australia 2014
Corsair gets into the gaming scene at PAX Australia 2014 by showing off its gaming wares at the event.

Published Mon, Nov 3 2014 9:41 PM CST
|
Updated Tue, Nov 3 2020 12:13 PM CST
PAX AU 2014 - I'm used to seeing Corsair at events like Computex, but with the company spinning off its gaming division into its own entity, known as Corsair Gaming, the company can now better show off its gaming products at events such as PAX Australia.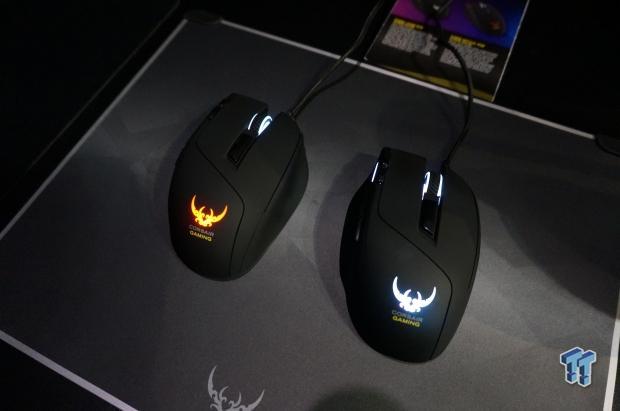 Corsair Gaming had a great section to its self at PAX AU, showing off its new gaming mouse, its various keyboards, headsets and more. The star of the show has to be the new Corsair Gaming Sabre RGB Mouse, which is a new super-light, great-looking gaming mouse.
Picking it up in person makes you really appreciate the weight of it, where it would be great for those massive gaming sessions. The Sabre RGB supports the Corsair Utility Engine (CUE) which allows gamers to change up the DPI on the mouse, acceleration and tune the button assignments.
You can also change up the colors, with up to 16.8 million different color options, your mouse an be as personal as you want it to be.
Corasir was triple-screen gaming at PAX AU, letting gamers use their great array of peripherals.
The company was also showing off its new H1500 and H2100 gaming headsets, with the H1500 being a wired gaming headset, while the H2100 provides wireless goodness.
Corsair has provided its own sprinkle of customization to the two gaming headsets, with the microphone completely disabled when it is pushed up and alongside the headset. Funnily enough, a Corsair Gaming representative who I won't name here (hopefully he reads this though) said that when he's on conference calls for business, he can continue to wear the headset while he rushes off to the bathroom. It might sound a bit ridiculous, but it's real - gamers need to take breaks, but it doesn't mean you have to miss out on any of the communication with your team mates when you're taking a quick break.
The dials to control the volume on the H1500 and H2100 gaming headsets are the same texture and roll that the gaming series of keyboards from the company has, a nice metallic, very textured scroll wheel. The H2100 headset, being wireless, is powered by a microUSB cable, too.
Both headsets feature "Genuine Dolby 7.1 surround" sound, have efficient 50mm neodymium drivers, and microfiber-wrapped memory foam ear pads, which were deliciously comfortable.
Related Tags