League of Legends has generated $946 million in 2014 so far
Just how much control does Riot Games have on the market because of League of Legends? It has topped the MMO list, making $946 million this year alone.

Published Sat, Oct 25 2014 11:40 PM CDT
|
Updated Tue, Nov 3 2020 12:14 PM CST
It feels like so long ago that World of Warcraft was this unstoppable MMO that made mountains of money for Blizzard, but Riot Games has since come in and run straight to the top of the MMO ladder, making billions of dollars along the way.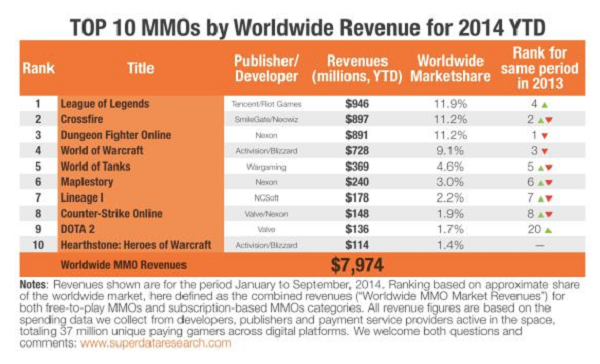 In the global MMO market, League of Legends is making some serious waves, with one in every eight dollars spent going into the coffers of Riot Games, and its international partners through League of Legends players. League of Legends now holds a 11.9% share of the MMO market, generating a massive $946 million this year alone (and it's not even over yet).
Last year, the game moved from fourth to third in the top 10 MMOs for worldwide revenue, but now it is sitting in the number one spot. Crossfire is right on its heels with 11.2% and has generated $897 million this year, Dungeon Fighter Online has 11.2% generating $891 million, World of Warcraft is now fourth with 9.1% and generating $728 million for Blizzard while fifth spot goes to World of Tanks with 4.6%, which has generated Wargaming a nice $369 million.
The entire worldwide MMO market is expected to generate some $11 billion this year, and by 2017 that number will grow to $13 billion according to Superdata. As it stands, MMOs represent 21% of the overall digital games market, with this number continuing to climb.
Related Tags