Alienware 18 laptop has its Core i7-4940MX chip clocked at 4.4GHz
Alienware's new Alienware 18 gaming laptop has its Core i7-4940MX processor overclocked to a huge 4.4GHz.

Published Mon, Oct 13 2014 11:31 PM CDT
|
Updated Tue, Nov 3 2020 12:14 PM CST
Alienware has a very powerful gaming laptop in its new Alienware 18, but now news is coming out that the gaming laptop can be configured with its Core i7-4940MX processor overclocked to an incredible 4.4GHz. While this clock speed might not be all that impressive on the desktop, for a notebook with limited cooling abilities, and a very limited space to dissipate heat, this is damn impressive.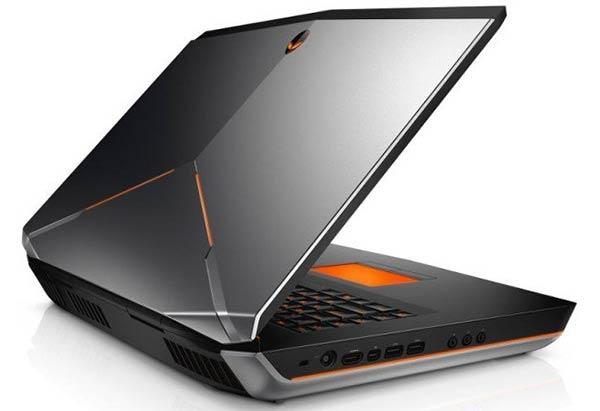 The smaller, and cheaper Alienware 17 can be configured with an overclocked Core i7 processor, with its i7-4910MQ capable of being configured to hit 4.1GHz. Intel's latest Core i7-4940MX has a stock clock speed of 3.1GHz, and boost clock of 4.1GHz. Alienware's laptop system designers decided to crank it up a bit with some factory overclocking, with Intel writing through its 'Chip Shot' blog that the overclocked i7-4940MX to "enable some of the highest-performance laptop PCs on the market". The company is aware of the thermal issues with an overclocked processor in a gaming notebook, where it added "Alienware engineers really got creative and developed a new thermal solution to ensure reliable and cool operation in such a small system".
The Alienware 18 gaming notebook is quite a beast, with an 18.4-inch 1920x1080 display, configurable with up to two, yes two NVIDIA GeForce GTX 880Ms in SLI, or two AMD Radeon R9 M290X GPUs in Crossfire. Up to 32GB of dual-channel DDR3 1600MHz RAM, a slew of storage and ODD options, as well as an 8-cell 86wHr battery. The Alienware 18 starts at $2099, but if you build it up as serious as those aforementioned specs, you're looking at closer to $5000.
Related Tags