Flight attendants demand FAA to revert the use of electronic devices
Judges and lawyers counter-argue pointing out that small electronic devices are no more dangerous than books that allowed in flights for a very long time.
Published Sun, Oct 12 2014 10:08 PM CDT
|
Updated Tue, Nov 3 2020 12:14 PM CST
Not everyone is happy with the FAA's decision to allow use of personal electronic devices during flights, with news that on behalf of the flight attendant's union, a lawyer has filed a case in U.S. Court of Appeals raising safety concerns.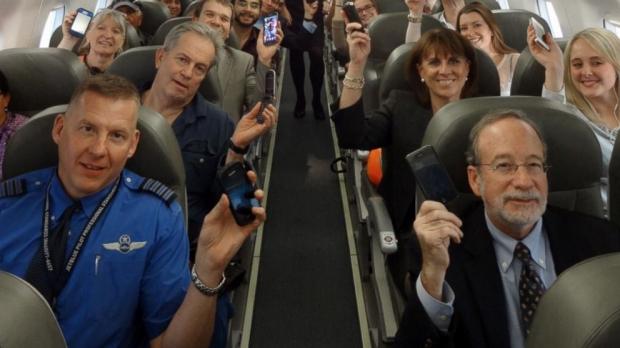 The Federal Aviation Administration gave a nod to 31 US airline operators to allow its passengers to use small electronic devices like tablets and smartphones during the flight, especially when taking off and landing; smartphones however need to be in airplane mode. It is also claimed that the FAA disregarded the Federal Administrative Procedure Act, and according to the union, passengers are not interested in listening to the safety announcements, with these devices quickly becoming dangerous projectiles.
The judges however, aren't convinced. Judge Harry T. Edwards said that airlines always had discretion on how to handle this. The lawyer for the government also argued that such small devices are no more dangerous than a book if such a turbulence occurs.
In any case, what's not noticed by the union's lawyer is that FAA simply said that small electronic devices can't be used during throughout the flight, including take off and landing. It is therefore at airline's company discretion whether or not they want to allow passengers to use these devices. The FAA also allowed the pilots of US-based airlines to use Microsoft Surface 2 devices after conducting several tests to replace paper maps and manuals for easier accessibility to relevant data via such tablets.
One may think that the union probably would have had a better chance to ask their respective airline companies to revert to ban of electronic use. Of course that would only mean that frequent and not-so-frequent flyers who depend on such devices will avoid such airlines, and that would mean a loss of revenues.
Related Tags