Ubisoft says 60FPS gaming 'looks weird', 'feels better' at 30FPS
Ubisoft jumps the 30FPS shark, says that 60FPS 'doesn't look like the real thing' and that 'it actually feels better for people when it's at that 30FPS'

Published Thu, Oct 9 2014 7:55 AM CDT
|
Updated Tue, Nov 3 2020 12:14 PM CST
Straight up: Ubisoft, whatever you are smoking, please share it with me. Maybe it'll help me with the stress of what I'm about to report to the world. Ubisoft has confirmed that Assassin's Creed Unity, the first game in the series to be built from the ground up for the new consoles, will be running at 900p and 30FPS on both the Xbox One and PS4.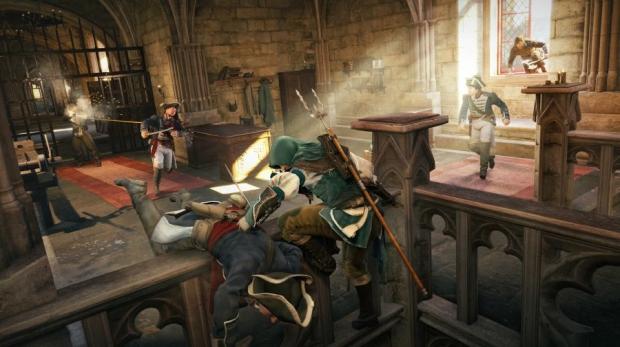 Worse than that, is what Nicolas Guérin, World Level Design Director on Unity, told TechRadar. Guérin said that decision of 30FPS was to give the game world of AC: Unity a more cinematic feel. He said: "At Ubisoft for a long time we wanted to push 60 fps. I don't think it was a good idea because you don't gain that much from 60 fps and it doesn't look like the real thing. It's a bit like The Hobbit movie, it looked really weird". He continued: "And in other games it's the same - like the Rachet and Clank series [where it was dropped]. So I think collectively in the video game industry we're dropping that standard because it's hard to achieve, it's twice as hard as 30fps, and its not really that great in terms of rendering quality of the picture and the image".
Guérin had backup from the 30FPS camp, with Assassin's Creed Unity's Creative Director, Alex Amancio chiming in, saying: "30 was our goal, it feels more cinematic. 60 is really good for a shooter, action adventure not so much. It actually feels better for people when it's at that 30fps. It also lets us push the limits of everything to the maximum. It's like when people start asking about resolution. Is it the number of the quality of the pixels that you want? If the game looks gorgeous, who cares about the number?".
I would like to personally call them both out, and Ubisoft as a whole. This is completely blown out, and I truly don't understand how a powerhouse company like Ubisoft can have a stance like this. I could blind test 30FPS and 60FPS 100/100 times without a problem. So, Ubisoft, call me out on that - 100/100 times I could call out 30 to 60FPS, without a problem - that's how confident I am that 60FPS is far superior to 30FPS, no matter what spin is put on it.
Related Tags