NVIDIA's new Denver-based Tegra K1 is 64-bit, very powerful
NVIDIA starts showing off its 64-bit capable Denver-based Tegra K1 processor, a dual-core powerhouse.

Published Mon, Aug 11 2014 11:29 PM CDT
|
Updated Tue, Nov 3 2020 12:15 PM CST
NVIDIA's Tegra K1 processor is quite the performance powerhouse, with a quad-core processor with four A15 CPUs, up to 2.3GHz clock speed, and a 192 Kepler-based GPU cores for the graphics side of things. We've seen the Tegra K1 power NVIDIA's cheap, but very powerful Shield Tablet, but the company is already showing off the next version of its SoC.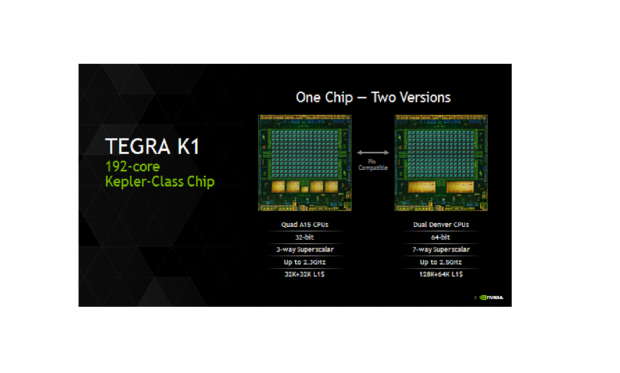 At HOT CHIPS, a technical conference in the world of high-performance chips, NVIDIA has unveiled more details on the 64-bit version of its Tegra K1 processor. The 64-bit Tegra K1 is powered by the 192-core Kepler GPU, with NVIDIA's own custom-designed 64-bit, dual-core "Project Denver" CPU, which is fully ARMv8 architecture compatible. The big shift here is that the Denver part of the Tegra K1 is a dual-core variant, with a clock speed of up to 2.5GHz, but is 64-bit capable. The current Tegra K1 is a quad-core chip, with 32-bit capabilities. This makes the 64-bit Tegra K1 the world's first 64-bit ARM processor for Android, demolishing the competition when it comes to performance.
NVIDIA has used some clever optimizations, as well as its advanced technology in its Denver CPU cores, to deliver performance from its dual-core Denver-based Tegra K1 that rivals even four or eight-core CPUs that we find in our mobile devices today. Better yet, The 64-bit Tegra K1 processor offers PC-class performance, extended battery life, better gaming and multi-tasking, and much more. NVIDIA will see its 64-bit Denver-based Tegra K1 processor baked into mobile devices later this year, with the company also teasing that it is already working on support for the upcoming release of Android L on its 64-bit Tegra K1.
If you want to dive into the way that this new Denver-based 64-bit Tegra K1 works, check out NVIDIA's blog which explains it in greater detail.
Related Tags