Mars geological maps contains 30 years worth of data
Mars geological map shows the entire surface of the planet along with impact craters and more.
Published Wed, Jul 16 2014 10:00 AM CDT
|
Updated Tue, Nov 3 2020 12:15 PM CST
One of the most studied and definitely, the most visited planets in our solar system, other than Earth, is Mars. Humans have been studying Mars for centuries and only in the last several decades have we really begun to understand the red planet and what its surface looks like.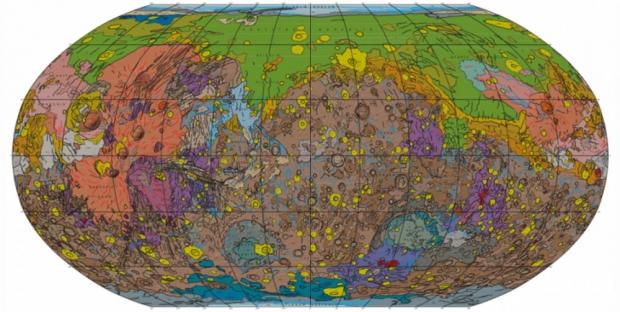 An awesome new geological map has been published that shows what the surface of Mars looks like and the map contains 30 years of data collected about the red planet. The map, pictured here, comes from the US Geological Survey. All the colors you see on the map represent parts of the crust of the planet formed at different times.
The green areas are believed to be lowland plains that are covered in sediment leftover for lakes and rivers that scientist believe covered the planet billions of years ago. All of the bright yellow dots are impact craters.
Related Tags