U.S. Navy developing 'Pandarra Fog' to defend against missile strikes
U.S. Navy testing new 'Pandarra Fog' designed to keep ships safer from cruise and ballistic missiles.
Published Tue, Jul 8 2014 3:31 PM CDT
|
Updated Tue, Nov 3 2020 12:15 PM CST
United States Navy researchers are developing a carbon-fiber cloud missile defense system, known as "Pandarra Fog," able to help defend against missile attacks. As part of a recent test, the fog was able to shroud the USS Meyer, USS Cable and USS Mustin while in the ocean south of Guam in late June. In addition to making ships more difficult to strike, the Navy hopes to use it for counter-targeting against enemy threats.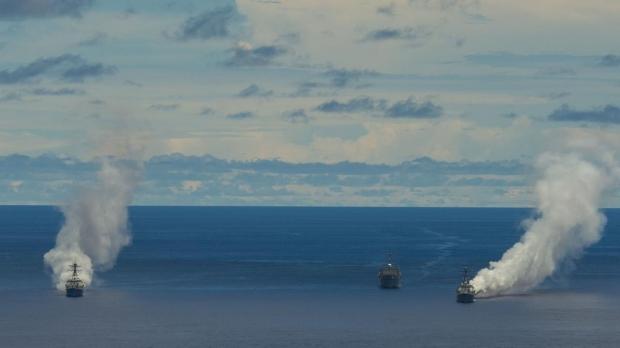 The exact physical makeup of Pandarra Fog remains unknown, but is said to be no harm to the environment or sailors near the fog. The carbon fiber particle-based clouds are created using a device located aboard the ships, described as maritime obscurant generator prototypes, and should better help defend against anti-ship cruise and ballistic missiles.
"Pandarra Fog showed the value of quickly bringing together scientific and joint forces to tackle our hardest warfighting problems," said Antonio Siordia, U.S. 7th Fleet science advisor. "This isn't just smoke or chaff, this is high-tech obscurant which can be effective against an array of missile homing systems."
Related Tags