Android L release battery test shows 36% improvement over KitKat
Google's next Android release, teased as 'L' right now, should feature huge battery life improvements.

Published Thu, Jul 3 2014 3:34 AM CDT
|
Updated Tue, Nov 3 2020 12:15 PM CST
If you're an Android user, you should begin to get excited for the next iteration of Android, simply known right now as the 'L' release. Rewinding back to when Jelly Bean was released, which featured Project Butter - an initiative that improved the overall speed and performance of the entire OS.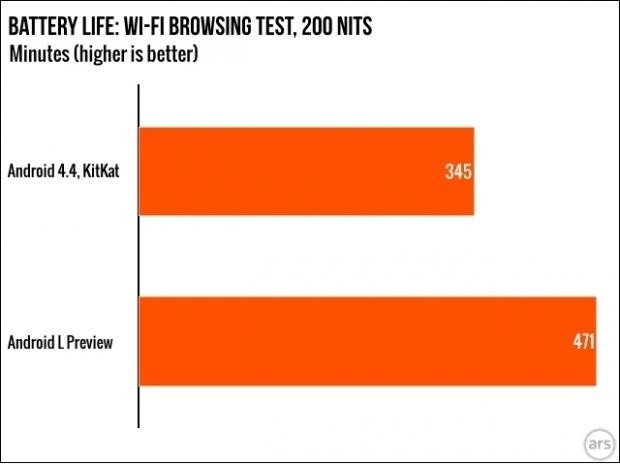 When Google unleashed KitKat, we saw Project Svelte tightening things up, optimizing the installation of Android to run on just 512MB. This allowed entry-level smartphones and tablets to rock the latest mobile OS from Google, without requiring the latest and greatest hardware. Moving onto the new L release, which should arrive as Android 5.0, and its new Project Volta.
Project Volta has the aim of battery life in its sights, with Ars Technica getting its hands-on Android L's Project Volta, and chucking into a battery life test. In their Wi-Fi browsing test, the Android L Developer Preview was able to beat out Android 4.4 KitKat by 36%, which is a huge difference. This provides an additional two-or-so hours of battery life, which is some what of a small, but gigantic victory for Google. The testing itself was performance on what Ars Technica explains as a "beat-up, daily driver phone" so we should expect even better numbers with Google's official release.
Related Tags