NASA Orion crew capsule successfully completes parachute test
NASA has successfully completed a parachute test for the Orion crew capsule that will eventually take astronauts into space.
Published Fri, Jun 27 2014 6:00 AM CDT
|
Updated Tue, Nov 3 2020 12:16 PM CST
Since the space shuttle fleet retired, astronauts in the US have had to hitch a ride into space with Russia to get to the ISS. That will all change eventually when the US gets its Orion crew capsule ready to take astronauts into space in a method similar to what we used in the Apollo days.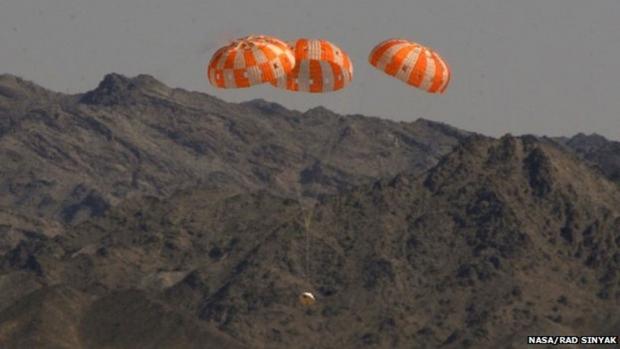 The crew capsule that will eventually let the US put its own astronauts into space is the Orion capsule, and that capsule has completed an important test. An Orion test capsule was strapped into the back of a USAF cargo plane and dropped out of the back of the aircraft at 35,000 feet.
NASA says that a drop from an aircraft at that altitude is the most realistic test yet for simulating reentry from space. In this test, the Orion was allowed to free fall for ten seconds to gain speed before the parachutes were activated to put additional stress on the chutes. Orion is set for its first space test in December, that test will be unmanned.
Related Tags